Men's football team ranking or FIFA world ranking which known "Coca-cola Men's World Ranking" in top 100 countries/teams list given for football fans on this post. Fifa World ranking given by Fifa governing body and officially published on Fifa.com. Germany is number 1 world ranking team in the world now. Most of the time or longest time Brazil was the number one ranking Man's team in the world.
In the world FIFA given ranking for total 211 countries. Also Fifa officially published Women's world ranking on official website on fifa.com. This top 100 FIFA World ranking was taken 16 May 2018 on official website of FIFA. Coca-cola is the official sponsor partner for FIFA Men's world Rankings.
FIFA world cup 2018 starting with the top 32 qualified national teams in the world on 14 July 2018. All team squad, team information, World Cup 2018 fixtures: Groups, matches, venues & Tickets was published. you can see world cup 2018 qualified 32 team list, groups, venues and Tickets information. In this article you can find below list of world cup 2018 qualified 32 team list with ranking and point table.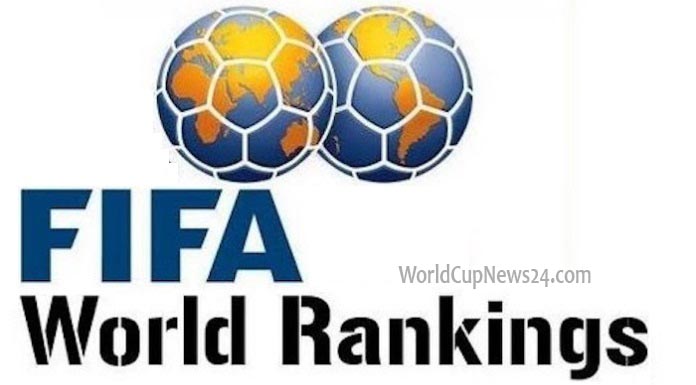 FIFA world ranking points system is used, with points being awarded based on the results of all FIFA- recognized full international football matches. Result of football match winner team (no penalty shootout) gets 3 points, winner team (penalty shootut) gets 2 points, Draw 1 points, Loss (penalty shootout) gets 1 points and Loss (no penalty shootout) gets 0 points on his point list. In this post, all information collected from wiki and Fifa pages.
Top 100 Coca-Cola/FIFA World Ranking 2018 Men's team: World cup 2018 qualified 32 teams FIFA ranking list
SL No
Country Name
FIFA Ranking
Total Points

1

Germany

1

1533

(1532.68)

2

Brazil

2

1384

(1384.24)

3

Belgium

3

1346

(1345.65)

4

Portugal

4

1306

(1306.35)

5

Argentina

5

1254

(1253.61)

6

Switzerland

6

1179

(1179.21)

7

France

7

1166

(1166.42)

8

Spain

8

1162

(1161.59)

9

Chile

9

1146

(1145.74)

10

Poland

10

1118

(1117.94)

11

Peru

11

1106

(1106.39)

12

Denmark

12

1054

(1053.7)

13

England

13

1040

(1040.33)

14

Tunisia

14

1012

(1012.15)

15

Mexico

15

1008

(1007.66)

16

Colombia

16

989

(988.57)

17

Uruguay

17

976

(976.5)

18

Croatia

18

975

(975.17)

19

Netherlands

19

969

(968.59)

20

Italy

20

947

(947.03)

21

Wales

21

931

(931.37)

22

Iceland

22

930

(930.22)

23

Sweden

23

889

(889.48)

24

USA

24

880

(879.64)

25

Costa Rica

25

858

(858.02)

26

Austria

26

841

(840.97)

27

Northern Ireland

27

837

(837.28)

28

Senegal

28

825

(825.44)

29

Slovakia

29

786

(785.86)

30

Ukraine

30

777

(777.1)

31

Republic of Ireland

31

776

(775.75)

32

Romania

32

737

(737.4)

32

Paraguay

32

737

(736.92)

34

Scotland

34

735

(734.82)

35

Serbia

35

732

(731.75)

36

IR Iran

36

727

(726.92)

37

Turkey

37

714

(714.12)

38

Congo DR

38

711

(711.22)

39

Venezuela

39

709

(709.44)

40

Australia

40

700

(699.57)

41

Bosnia and Herzegovina

41

688

(687.81)

42

Morocco

42

681

(681.12)

43

Montenegro

43

671

(670.87)

44

Greece

44

657

(656.78)

45

Czech Republic

45

647

(646.62)

46

Egypt

46

636

(635.72)

47

Nigeria

47

635

(635.14)

48

Jamaica

48

612

(611.9)

49

Norway

49

608

(608.36)

50

Hungary

50

604

(603.77)

51

Cameroon

51

603

(603.23)

51

Ghana

51

603

(602.95)

53

Burkina Faso

53

591

(591.35)

54

Bulgaria

54

583

(583.2)

55

Panama

55

575

(574.78)

56

Albania

56

549

(548.51)

57

Bolivia

57

548

(548.13)

58

Cape Verde Islands

58

545

(545.47)

59

Honduras

59

530

(529.64)

60

Japan

60

528

(528.22)

61

Korea Republic

61

520

(519.75)

62

Algeria

62

516

(516.47)

63

Finland

63

507

(506.86)

64

Ecuador

64

506

(506.42)

65

Slovenia

65

495

(495.37)

66

Russia

66

493

(493.15)

67

Mali

67

462

(462.19)

68

Côte d'Ivoire

68

458

(457.79)

69

Guinea

69

450

(449.51)

70

Saudi Arabia

70

445

(444.66)

71

Curaçao

71

439

(438.87)

72

South Africa

72

433

(432.62)

73

China PR

73

431

(431.19)

74

Uganda

74

426

(425.76)

75

Kyrgyz Republic

75

424

(424.06)

76

Syria

76

423

(422.85)

77

FYR Macedonia

77

422

(421.86)

78

Zambia

78

413

(412.95)

79

Belarus

79

410

(409.65)

80

Canada

80

407

(407.48)

81

United Arab Emirates

81

405

(404.8)

82

Lebanon

82

404

(404.1)

83

Luxembourg

83

401

(400.64)

83

Palestine

83

401

(400.56)

85

El Salvador

85

392

(392.23)

86

Cyprus

86

386

(386.13)

87

Oman

87

383

(382.51)

88

Uzbekistan

88

381

(380.96)

88

Iraq

88

381

(380.83)

90

Benin

90

379

(378.79)

91

Congo

91

378

(377.52)

92

Trinidad and Tobago

92

374

(374.41)

92

Gabon

92

374

(373.64)

94

Estonia

94

364

(364.21)

94

Faroe Islands

94

364

(363.73)

96

Georgia

96

362

(361.5)

97

India

97

354

(354.41)

98

Armenia

98

347

(346.99)

99

Israel

98

347

(346.94)

100

Libya

99

341

(340.54)