All of FIFA World cup 2018 qualifiers points table with groups list and matches result with goals information. Russia World cup 2018 all match results, qualifiers points table, Standings, match summary, world cup 2018 groups round qualifiers points table with fixtures, won, drawn, lost, total goals in match, points table.
All 32 Teams FIFA World Cup 2018 Points Table Latest Updated
All 2018 FIFA World Cup Points Table and match result information for 32 teams collected from wikipedia and FIFA official page. This World Cup 2018 standings, latest points table updated manually and we are not authorized for this world cup group A-H result, goal information, points table, ranking information. The top two teams of each group advance to play the round of 16 (Knockout stage). All world cup 2018 football matches will be played on a round-robin basis.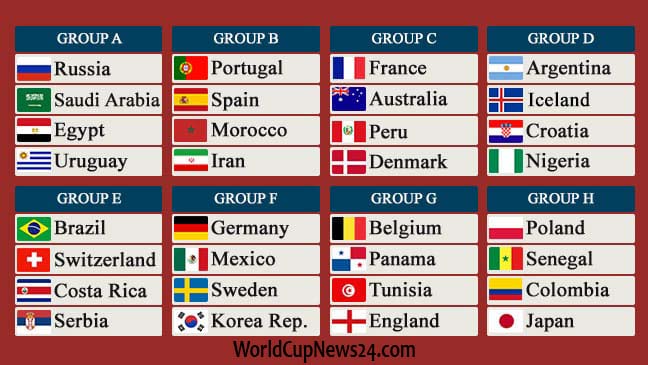 FIFA World Cup 2018 Group A Points Table:
| Position | Team Name | Played | Won | Drawn | Lost | GF | GA | GD | Points |
| --- | --- | --- | --- | --- | --- | --- | --- | --- | --- |
| 1 | Uruguay | 3 | 3 | 0 | 0 | 5 | 0 | +5 | 9 |
| 2 | Russia (Host) | 3 | 2 | 0 | 1 | 8 | 4 | +4 | 6 |
| 3 | Saudi Arabia | 3 | 1 | 0 | 2 | 2 | 7 | −5 | 3 |
| 4 | Egypt | 3 | 0 | 0 | 3 | 2 | 6 | −4 | 0 |
2018 FIFA World Cup Group B Points Table:
| Position | Team Name | Played | Won | Drawn | Lost | GF | GA | GD | Points |
| --- | --- | --- | --- | --- | --- | --- | --- | --- | --- |
| 1 | Spain | 3 | 1 | 2 | 0 | 6 | 5 | +1 | 5 |
| 2 | Portugal | 3 | 1 | 2 | 0 | 5 | 4 | +1 | 5 |
| 3 | Iran | 3 | 1 | 1 | 1 | 2 | 2 | 0 | 4 |
| 4 | Morocco | 3 | 0 | 1 | 2 | 2 | 4 | −2 | 1 |
World Cup 2018 Group C Points Table:
| Position | Team Name | Played | Won | Drawn | Lost | GF | GA | GD | Points |
| --- | --- | --- | --- | --- | --- | --- | --- | --- | --- |
| 1 | France | 3 | 2 | 1 | 0 | 3 | 1 | +2 | 7 |
| 2 | Denmark | 3 | 1 | 2 | 0 | 2 | 1 | +1 | 5 |
| 3 | Peru | 3 | 1 | 0 | 2 | 2 | 2 | 0 | 3 |
| 4 | Australia | 3 | 0 | 1 | 2 | 2 | 5 | −3 | 1 |
Russia World Cup 2018 Group D Points Table:
| Position | Team Name | Played | Won | Drawn | Lost | GF | GA | GD | Points |
| --- | --- | --- | --- | --- | --- | --- | --- | --- | --- |
| 1 | Croatia | 3 | 3 | 0 | 0 | 7 | 1 | +6 | 9 |
| 2 | Argentina | 3 | 1 | 1 | 1 | 3 | 5 | −2 | 4 |
| 3 | Nigeria | 3 | 1 | 0 | 2 | 3 | 4 | −1 | 3 |
| 4 | Iceland | 3 | 0 | 1 | 2 | 2 | 5 | −3 | 1 |
2018 FIFA World Cup Group E Points Table:
| Position | Team Name | Played | Won | Drawn | Lost | GF | GA | GD | Points |
| --- | --- | --- | --- | --- | --- | --- | --- | --- | --- |
| 1 | Brazil | 3 | 2 | 1 | 0 | 5 | 1 | +4 | 7 |
| 2 | Switzerland | 3 | 1 | 2 | 0 | 5 | 4 | +1 | 5 |
| 3 | Serbia | 3 | 1 | 0 | 2 | 2 | 4 | −2 | 3 |
| 4 | Costa Rica | 3 | 0 | 1 | 2 | 2 | 5 | −3 | 1 |
FIFA World Cup 2018 Group F Points Table:
| Position | Team Name | Played | Won | Drawn | Lost | GF | GA | GD | Points |
| --- | --- | --- | --- | --- | --- | --- | --- | --- | --- |
| 1 | Sweden | 3 | 2 | 0 | 1 | 5 | 2 | +3 | 6 |
| 2 | Mexico | 3 | 2 | 0 | 1 | 3 | 4 | −1 | 6 |
| 3 | South Korea | 3 | 1 | 0 | 2 | 3 | 3 | 0 | 3 |
| 4 | Germany | 3 | 1 | 0 | 2 | 2 | 4 | −2 | 3 |
FIFA World Cup 2018 Group G Points Table:
| Position | Team Name | Played | Won | Drawn | Lost | GF | GA | GD | Points |
| --- | --- | --- | --- | --- | --- | --- | --- | --- | --- |
| 1 | Belgium | 3 | 3 | 0 | 0 | 9 | 2 | +7 | 9 |
| 2 | England | 3 | 2 | 0 | 1 | 8 | 3 | +5 | 6 |
| 3 | Tunisia | 3 | 1 | 0 | 2 | 5 | 8 | −3 | 3 |
| 4 | Panama | 3 | 0 | 0 | 3 | 2 | 11 | −9 | 0 |
FIFA World Cup 2018 Group H Points Table:
| Position | Team Name | Played | Won | Drawn | Lost | GF | GA | GD | Points |
| --- | --- | --- | --- | --- | --- | --- | --- | --- | --- |
| 1 | Colombia | 3 | 2 | 0 | 1 | 5 | 2 | +3 | 6 |
| 2 | Japan | 3 | 1 | 1 | 1 | 4 | 4 | 0 | 4 |
| 3 | Senegal | 3 | 1 | 1 | 1 | 4 | 4 | 0 | 4 |
| 4 | Poland | 3 | 1 | 0 | 2 | 2 | 5 | −3 | 3 |
---
FIFA World Cup 2018 all football match Results & Time-table
In Fifa world cup 2018, total 64 football match will be played in different 8 groups in Russia. All group round football match result, Round of 16 match, Quarter-final matches, Semi-final matches and Final match result, Timetable, venues information was given below. The UAE Standard Time is UTC+4:00. 2018 FIFA World Cup Schedule in UAE Standard Time or United Arab Emirates Standard Time. Match Schedule of FIFA World Cup 2018 in United Arab Emirates Standard Time (UAE Time) for all the 64 matches. Also 2018 World cup all football match result and goal information given below:
Match No
Date & Time
Group
Team-1
Result
Team-2
Venues

FIFA World Cup 2018 group stage match Results & Fixture

01

June 14, 2018
7:00 PM

A

Russia

5 – 0

Saudi Arabia

Luzhniki Stadium, Moscow

02

June 15, 2018
4:00 PM

A

Egypt

0 – 1

Uruguay

Central Stadium, Yekaterinburg

03

June 15, 2018
10:00 PM

B

Portugal

3 – 3

Spain

Fisht Olympic Stadium, Sochi

04

June 15, 2018
7:00 PM

B

Morocco

0 – 1

Iran

Krestovsky Stadium, Saint Petersburg

05

June 16, 2018
2:00 PM

C

France

2 – 1

Australia

Kazan Arena, Kazan

06

June 16, 2018
8:00 PM

C

Peru

0 – 1

Denmark

Mordovia Arena, Saransk

07

June 16, 2018
5:00 PM

D

Argentina

1 – 1

Iceland

Otkrytiye Arena, Moscow

8

June 16, 2018
11:00 PM

D

Croatia

2 – 0

Nigeria

Kaliningrad Stadium, Kaliningrad

09

June 17, 2018
10:00 PM

E

Brazil

1 – 1

Switzerland

Rostov Arena, Rostov-on-Don

10

June 17, 2018
4:00 PM

E

Costa Rica

0 – 1

Serbia

Cosmos Arena, Samara

11

June 17, 2018
7:00 PM

F

Germany

0 – 1

Mexico

Luzhniki Stadium, Moscow

12

June 18, 2018
4:00 PM

F

Sweden

1 – 0

South Korea

Nizhny Novgorod Stadium, Nizhny Novgorod

13

June 18, 2018
7:00 PM

G

Belgium

3 – 0

Panama

Fisht Olympic Stadium, Sochi

14

June 18, 2018
10:00 PM

G

Tunisia

1 – 2

England

Volgograd Arena, Volgograd

15

June 19, 2018
7:00 PM

H

Poland

1 – 2

Senegal

Otkrytiye Arena, Moscow

16

June 19, 2018
4:00 PM

H

Colombia

1 – 2

Japan

Mordovia Arena, Saransk

17

June 19, 2018
10:00 PM

A

Russia

3 – 1

Egypt

Krestovsky Stadium, Saint Petersburg

18

June 20, 2018
7:00 PM

A

Uruguay

1 – 0


Saudi Arabia

Rostov Arena, Rostov-on-Don

19

June 20, 2018
4:00 PM

B

Portugal

1 – 0

Morocco

Luzhniki Stadium, Moscow

20

June 20, 2018
10:00 PM

B

Iran

0 – 1

Spain

Kazan Arena, Kazan

21

June 21, 2018
7:00 PM

C

France

1 – 0

Peru

Central Stadium, Yekaterinburg

22

June 21, 2018
4:00 PM

C

Denmark

1 – 1

Australia

Cosmos Arena, Samara

23

June 21, 2018
10:00 PM

D

Argentina

0 – 3

Croatia

Nizhny Novgorod Stadium, Nizhny Novgorod

24

June 22, 2018
7:00 PM

D

Nigeria

2 – 0

Iceland

Volgograd Arena, Volgograd

25

June 22, 2018
4:00 PM

E

Brazil

2 – 0

Costa Rica

Krestovsky Stadium, Saint Petersburg

26

June 22, 2018
10:00 PM

E

Serbia

1 – 2

Switzerland

Kaliningrad Stadium, Kaliningrad

27

June 23, 2018
10:00 PM

F

Germany

2 – 1

Sweden

Fisht Olympic Stadium, Sochi

28

June 23, 2018
7:00 PM

F

South Korea

1 – 2

Mexico

Rostov Arena, Rostov-on-Don

29

June 23, 2018
4:00 PM

G

Belgium

5 – 2

Tunisia

Otkrytiye Arena, Moscow

30

June 24, 2018
4:00 PM

G

England

6 – 1

Panama

Nizhny Novgorod Stadium, Nizhny Novgorod

31

June 24, 2018
10:00 PM

H

Poland

0 – 3

Colombia

Kazan Arena, Kazan

32

June 24, 2018
7:00 PM

H

Japan

2 – 2

Senegal

Central Stadium, Yekaterinburg

33

June 25, 2018
6:00 PM

A

Uruguay

3 – 0

Russia

Cosmos Arena, Samara

34

June 25, 2018
6:00 PM

A

Saudi Arabia

2 – 1

Egypt

Volgograd Arena, Volgograd

35

June 25, 2018
10:00 PM

B

Iran

1 – 1

Portugal

Mordovia Arena, Saransk

36

June 25, 2018
10:00 PM

B

Spain

2- 2

Morocco

Kaliningrad Stadium, Kaliningrad

37

June 26, 2018
6:00 PM

C

Denmark

0 – 0

France

Luzhniki Stadium, Moscow

38

June 26, 2018
6:00 PM

C

Australia

0 – 2

Peru

Fisht Olympic Stadium, Sochi

39

June 26, 2018
10:00 PM

D

Nigeria

1 – 2

Argentina

Krestovsky Stadium, Saint Petersburg

40

June 26, 2018
10:00 PM

D

Iceland

1 – 2

Croatia

Rostov Arena, Rostov-on-Don

41

June 27, 2018
10:00 PM

E

Serbia

0 – 2

Brazil

Otkrytiye Arena, Moscow

42

June 27, 2018
10:00 PM

E

Switzerland

2 – 2

Costa Rica

Nizhny Novgorod Stadium, Nizhny Novgorod

43

June 27, 2018
6:00 PM

F

South Korea

2 – 0

Germany

Kazan Arena, Kazan

44

June 27, 2018
6:00 PM

F

Mexico

1 – 3

Sweden

Central Stadium, Yekaterinburg

45

June 28, 2018
10:00 PM

G

England

0 – 1

Belgium

Kaliningrad Stadium, Kaliningrad

46

June 28, 2018
10:00 PM

G

Panama

1 – 2

Tunisia

Mordovia Arena, Saransk

47

June 28, 2018
6:00 PM

H

Japan

0 – 1

Poland

Volgograd Arena, Volgograd

48

June 28, 2018
6:00 PM

H

Senegal

0 – 1

Colombia

Cosmos Arena, Samara

FIFA World Cup 2018 Round 16 match Results & Time-table

49

June 30, 2018
10:00 PM

Round 16

Uruguay

2 – 1


Portugal

Fisht Olympic Stadium, Sochi

50

June 30, 2018
6:00 PM

Round 16

France

4 – 3


Argentina

Kazan Arena, Kazan

51

July 1, 2018
6:00 PM

Round 16

Spain

1 – 1
3 – 4

Russia

Luzhniki Stadium, Moscow

52

July 1, 2018
10:00 PM

Round 16

Croatia

1 – 1
3 – 2

Denmark

Nizhny Novgorod Stadium, Nizhny Novgorod

53

July 2, 2018
6:00 PM

Round 16

Brazil

2 – 0


Mexico

Cosmos Arena, Samara

54

July 2, 2018
10:00 PM

Round 16

Belgium

3 – 2


Japan

Rostov Arena, Rostov-on-Don

55

July 3, 2018
6:00 PM

Round 16

Sweden

1 – 0

Switzerland

Krestovsky Stadium, Saint Petersburg

56

July 3, 2018
10:00 PM

Round 16

Colombia

1 – 1
3 – 4

England

Otkrytiye Arena, Moscow

FIFA World Cup 2018 Round of 16 match Results & Time-table

57

July 6, 2018
6:00 PM

Quarter Final 1

Uruguay

0 – 2


France

Nizhny Novgorod Stadium, Nizhny Novgorod

58

July 6, 2018
10:00 PM

Quarter Final 2

Brazil

1 – 2

Belgium

Kazan Arena, Kazan

59

July 7, 2018
10:00 PM

Quarter Final 3

Sweden

0 – 2

England

Fisht Olympic Stadium, Sochi

60

July 7, 2018
6:00 PM

Quarter Final 4

Russia

2 – 2
3 – 4

Croatia

Cosmos Arena, Samara

FIFA World Cup 2018 Semi Final match Results & Time-table

61

July 10, 2018
10:00 PM

Semi Final 1

France

1 – 0

Belgium

Krestovsky Stadium, Saint Petersburg

62

July 11, 2018
10:00 PM

Semi Final 2

Croatia

2 – 1

England

Luzhniki Stadium, Moscow

FIFA World Cup 2018 Third place match Results & Time-table

63

July 14, 2018
6:00 PM

3rd place

Belgium

2 – 0

England

Krestovsky Stadium, Saint Petersburg

FIFA World Cup 2018 Final match Results & Time-table

64

July 15, 2018
7:00 PM

Final

France

4 – 2

Croatia

Luzhniki Stadium, Moscow
Last updated on 16-07-2018