Fifa world cup 2018 is the 21st Men's Football tournament which will be started on June 14, 2018 and will be end on 15 July, 2018. Russia is Host country for this FIFA world cup 2018. Total 32 Men's national football teams qualified for this FIFA world cup 2018 including host country Russia. Total of 64 football matches in different 8 group will be played in 12 venues located in 11 cities of Russia for this FiFa worldcup 2018. Fifa Worldcup 2018 will be starting by a wonderful Opening Ceremony in Russia and Opening match between Host country Russia vs Saudi Arabia in Luzhniki Stadium, Moscow on 14 June, 2018.
Already FIFA world cup 2018 fixtures, Groups, Schedule, venues, date and time published by FIFA officially. 32 teams in different 8 groups, 12 venues in 11 cities in Russia. Total 64 football match will be playing in Fifa worldcup 2018 including 48 group match, 8 Round Sixteen Knockout match, 4 Quarter-finals match, 2 Semi-final match, 1 Third place play-off match and 1 Final match.
FiFa World Cup 2018 Match fixtures official Calendar:
Total 8 Groups in FIFA World Cup 2018: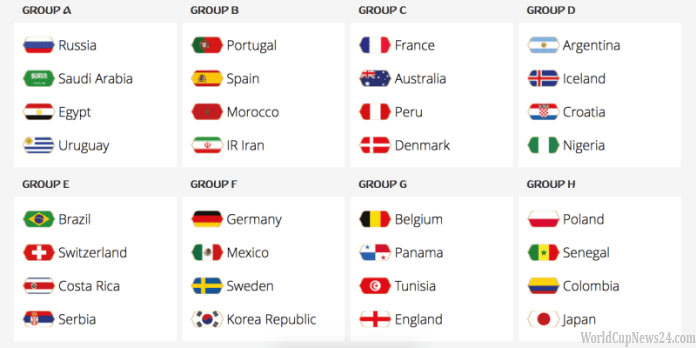 Fifa World cup 2018 qualifiers Continent wise list:
World cup 2018 qualifiers from Europe (14): Russia, Portugal, Span, France, Denmark, Iceland, Switzerland, Serbia, Germany, Sweden, Belgium, England, Poland. Croatia.
World cup 2018 qualifiers from Asia (4): Japan, Korea, Iran, Saudi Arabia.
World cup 2018 qualifiers from Africa (5): Egypt, Morocco, Nigeria, Tunisia, Senegal.
World cup 2018 qualifiers from South America (7): Uruguay, Peru, Argentina, Brazil, Costa Rica, panama, Colombia
World cup 2018 qualifiers from North America (1): Mexico
2018 FIFA World Cup qualification competition tournament:
Asian Football Confederation (AFC):
Qualified 5 Teams: Australia, Iran, Japan, Saudi Arabia, South Korea.
Confederation of African Football (CAF):
Qualified 5 Teams: Egypt, Morocco, Nigeria, Senegal, Tunisia.
Confederation of North, Central American and Caribbean Association Football (CONCACAF):
Qualified 3 Teams: Costa Rica, Mexico, Panama.
South American Football Confederation (CONMEBOL)
Qualified 5 Teams:  Argentina, Brazil, Colombia, Peru, Uruguay.
Union of European Football Associations (UEFA):
Qualified 14 Teams: Russia (hosts), Belgium, Croatia, Denmark, England, France, Germany, Iceland, Poland, Portugal, Serbia, Spain, Sweden and Switzerland.
Oceania Football Confederation (OFC):
None qualified
FIFA World Cup 2018 Russia Venues and Capacity:
Luzhniki Stadium, Moscow
Capacity: 81,000
Otkritie Arena (Spartak Stadium), Moscow
Capacity: 45,360
Krestovsky Stadium (Saint Petersburg Stadium), Saint Petersburg
Capacity: 68,134
Fisht Olympic Stadium (Fisht Stadium), Sochi
Capacity: 47,659
Cosmos Arena (Samara Arena), Samara
Capacity: 44,918
Kazan Arena, Kazan
Capacity: 45,379
Rostov Arena, Rostov-on-Don
Capacity: 45,000
Volgograd Arena, Volgograd
Capacity: 45,568
Nizhny Novgorod Stadium, Nizhny Novgorod
Capacity: 44,899
Mordovia Arena, Saransk
Capacity: 44,442
Central Stadium (Ekaterinburg Arena), Yekaterinburg
Capacity: 35,696
Kaliningrad Stadium, Kaliningrad
Capacity: 35,212
FIFA World Cup 2018 Russia Tickets Prices: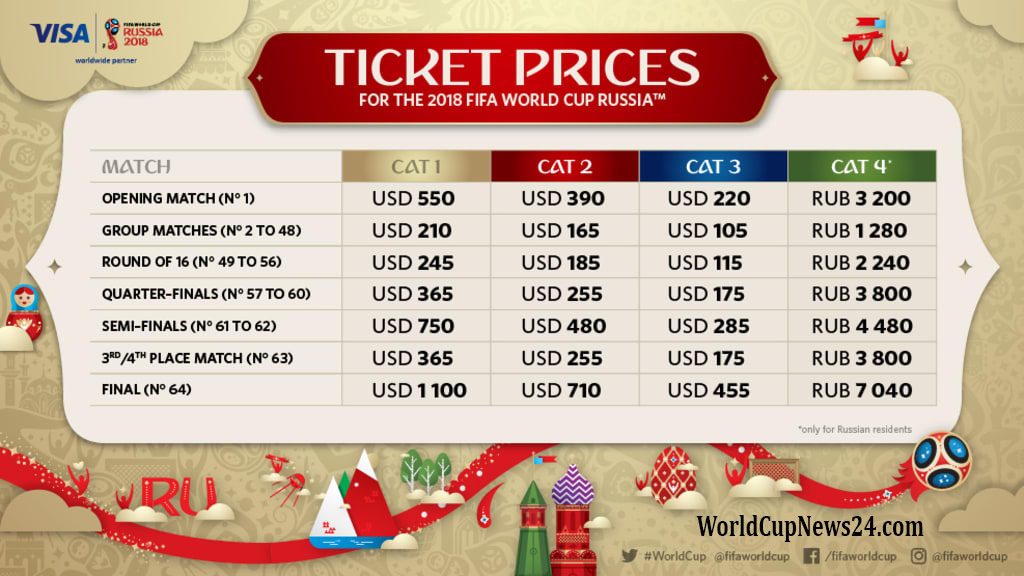 The first of ticket sales started on 14 September 2017 and lasted until 12 October 2017. The ticket rates have been announced on FIFA's official web site. There is different Ticket price for world cup 2018 Opening Match, Group match, Quarter Finals, Semi Finals, Final match in different Categories. Lowest Ticket price for is USD 105 and Highest Ticket price is USD 1100 for this Fifa worldcup 2018. At the revenue phase that will soon be kicked off April the tickets will be sold following this supply and will continue until 15th July.