Are you looking for FIFA best football player Ranking/ Ratings 2018? FIFA 18 presents Player Ratings for top 50 football players in 2018 from all position. FIFA announced 2017 best Men's football player award in London, England. The best football men's player ranking was selected from last year performance in different player position as Forward player, Striker player, Goalkeeper player, Defender player, Midfielder player, Winger and other categories.
The Best Men's FIFA Football Awards/ FIFA World Number 1 Player of the Year
The top ranking 2017 FIFA Mens's player was Portugal's Forward player Cristiano Ronaldo. 2nd and 3rd Forward player was Lionel Messi from Argentina and Neymar form Brazil.
The best men's Goalkeeper 2017 was Gianluigi Buffon from Italy. 2nd and 3rd Goalkeeper was Manuel Neuer from Germany and Keylor navas from Costa Rica.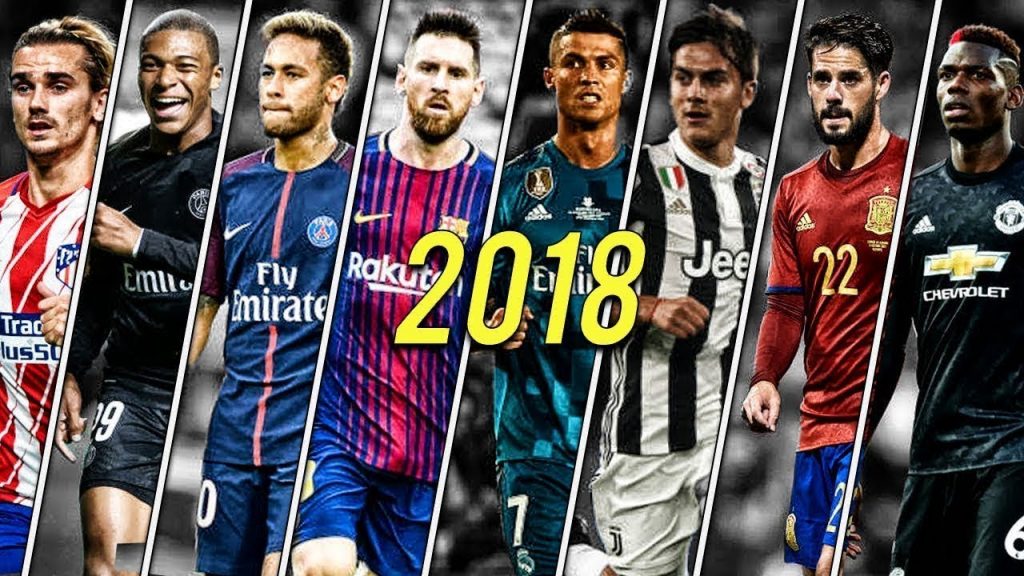 FIFA Top ranking 50 football players list 2018
FIFA Men's football player ranking with points, player name list, country, club, position, date of birth and Height information was given for world cup 2018 football fans. All information collected form Fifa 18 – player ratings and best players 100 list in easports.com
| Rank | Player | Country | Club | Position | Rating | D.O.B. & Age | Height |
| --- | --- | --- | --- | --- | --- | --- | --- |
| 01 | Cristiano Ronaldo | Portugal | Real Madrid | Forward | 94 | 5 February 1985 (age 33) | (6 ft 2 in) |
| 02 | Lionel Messi | Argentina | FC Barcelona | Forward | 93 | 24 June 1987 (age 30) | (5 ft 7 in) |
| 03 | Neymar | Brazil | Paris Saint-Germain | Forward | 92 | 5 February 1992 (age 26) | (5 ft 9 in) |
| 04 | Luis Suárez | Uruguay | FC Barcelona | Striker | 92 | 24 January 1987 (age 31) | (6 ft 0 in) |
| 05 | Manuel Neuer | Germany | Bayern Munich | Goalkeeper | 92 | 27 March 1986 (age 32) | (6 ft 4 in) |
| 06 | Robert Lewandowski | Poland | Bayern Munich | Striker | 91 | 21 August 1988 (age 29) | (6 ft 1 in) |
| 07 | Sergio Ramos | Spain | Real Madrid | Defender | 90 | 30 March 1986 (age 32) | (6 ft 0 in) |
| 08 | Eden Hazard | Belgium | Chelsea | Forward / Winger | 90 | 7 January 1991 (age 27) | (5 ft 8 in) |
| 09 | Toni Kroos | Germany | Real Madrid | Midfielder | 90 | 4 January 1990 (age 28) | (6 ft 0 in) |
| 10 | Gonzalo Higuaín | Argentina | Juventus | Striker | 90 | 10 December 1987 (age 30) | (6 ft 1 in) |
| 11 | David De Gea | Spain | Manchester United | Goalkeeper | 90 | 7 November 1990 (age 27); | (6 ft 4 in) |
| 12 | Luka Modrić | Croatia | Real Madrid | Midfielder | 89 | 9 September 1985 (age 32) | (5 ft 8 in) |
| 13 | Gianluigi Buffon | Italy | Juventus | Goalkeeper | 89 | 28 January 1978 (age 40) | (6 ft 3 in) |
| 14 | Alexis Sánchez | Chile | Arsenal | Forward / Winger | 89 | 19 December 1988 (age 29) | (5 ft 7 in) |
| 15 | Kevin De Bruyne | Belgium | Manchester City | Midfielder | 89 | 28 June 1991 (age 26) | (5 ft 11 in) |
| 16 | Giorgio Chiellini | Italy | Juventus | Defender | 89 | 14 August 1984 (age 33) | (6 ft 2 in) |
| 17 | Gareth Bale | Wales | Real Madrid | Winger | 89 | 16 July 1989 (age 28) | (6 ft 1 in) |
| 18 | Sergio Agüero | Argentina | Manchester City | Striker | 89 | 2 June 1988 (age 29) | (5 ft 8 in) |
| 19 | Thibaut Courtois | Belgium | Chelsea | Goalkeeper | 89 | 11 May 1992 (age 26) | (6 ft 6 in) |
| 20 | Antoine Griezmann | France | Atlético De Madrid | Striker | 88 | 21 March 1991 (age 27) | (5 ft 9 in) |
| 21 | Paulo Dybala | Argentina | Juventus | Attacking midfielder | 88 | 15 November 1993 (age 24) | (5 ft 9 1/2 in) |
| 22 | Thiago | Spain | Bayern München | Central midfielder | 88 | 11 April 1991 (age 27) | (5 ft 8 in) |
| 23 | Leonardo Bonucci | Italy | Milan | Centre-back | 88 | 1 May 1987 (age 31) | (6 ft 3 in) |
| 24 | Arjen Robben | Netherlands | Bayern München | Winger | 88 | 23 January 1984 (age 34) | (5 ft 11 in) |
| 25 | Thiago Silva | Brazil | Paris Saint-Germain | Centre back | 88 | 22 September 1984 (age 33) | (6 ft 0 in) |
| 26 | Mats Hummels | Germany | Bayern München | Centre back | 88 | 16 December 1988 (age 29) | (6 ft 3 in) |
| 27 | Diego Godín | Uruguay | Atlético De Madrid | Centre back | 88 | 16 February 1986 (age 32) | (6 ft 1 1/2 in) |
| 28 | Hugo Lloris | France | Tottenham Hotspur | Goalkeeper | 88 | 26 December 1986 (age 31) | (6 ft 2 in) |
| 29 | Pierre-Emerick Aubameyang | Gabon | Arsenal | Striker | 88 | 18 June 1989 (age 28) | (6 ft 2 in) |
| 30 | Zlatan Ibrahimović | Sweden | LA Galaxy | Striker | 88 | 3 October 1981 (age 36) | (6 ft 5 in) |
| 31 | Jan Oblak | Slovenia | Atlético Madrid | Goalkeeper | 88 | 7 January 1993 (age 25) | (6 ft 2 1/2 in) |
| 32 | Mesut Özil | Germany | Arsenal | Attacking midfielder | 88 | 15 October 1988 (age 29) | (5 ft 11 in) |
| 33 | Jérôme Boateng | Germany | Bayern Munich | Defender | 88 | 3 September 1988 (age 29) | (6 ft 4 in) |
| 34 | Marco Verratti | Italy | Paris Saint-Germain | Midfielder | 87 | 5 November 1992 (age 25) | (5 ft 5 in) |
| 35 | N'golo Kanté | France | Chelsea | Midfielder | 87 | 29 March 1991 (age 27) | (5 ft 6 in) |
| 36 | Paul Pogba | France | Manchester United | Midfielder | 87 | 15 March 1993 (age 25) | (6 ft 3 in) |
| 37 | Edinson Cavani | Uruguay | Paris Saint-Germain | Striker | 87 | 14 February 1987 (age 31) | (6 ft 1/2 in) |
| 38 | Marcelo | Brazil | Real Madrid | Left back | 87 | 12 May 1988 (age 30) | (5 ft 9 in) |
| 39 | Arturo Vidal | Chile | Bayern München | Midfielder | 87 | 22 May 1987 (age 31) | (5 ft 11 in) |
| 40 | Christian Eriksen | Denmark | Tottenham Hotspur | Attacking midfielder | 87 | 14 February 1992 (age 26) | (6 ft 0 in) |
| 41 | Marek Hamšík | Slovakia | Napoli | Midfielder | 87 | 27 July 1987 (age 30) | (6 ft 0 in) |
| 42 | Gerard Piqué | Catalonia | FC Barcelona | Centre-back | 87 | 2 February 1987 (age 31) | (6 ft 4 in) |
| 43 | David Silva | Spain | Manchester City | Midfielder | 87 | 8 January 1986 (age 32) | (5 ft 8 in) |
| 44 | Ivan Rakitić | Croatia | FC Barcelona | Midfielder | 87 | 10 March 1988 (age 30) | (6 ft 0 in) |
| 45 | Andres Iniesta | Catalonia | FC Barcelona | Midfielder | 87 | 11 May 1984 (age 34) | (5 ft 7 1/2 in) |
| 46 | Samir Handanovič | Slovenia | Internazionale | Goalkeeper | 87 | 14 July 1984 (age 33) | (6 ft 4 in) |
| 47 | Thomas Müller | Germany | Bayern München | Forward | 86 | 13 September 1989 (age 28) | (6 ft 1 in) |
| 48 | Romelu Lukaku | Belgium | Manchester United | Striker | 86 | 13 May 1993 (age 25) | (6 ft 3 in) |
| 49 | Dries Mertens | Napoli | Napoli | Forward | 86 | 6 May 1987 (age 31) | (5 ft 7 in) |
| 50 | Radja Nainggolan | Belgium | Roma | Midfielder | 86 | 4 May 1988 (age 30) | (5 ft 9 1/2 in) |
You may also like