Serbia coach Mladen Krstajić has announced for Serbia final squad for the 2018 FIFA World Cup on 1 June 2018. Stephan Lichtsteiner is the captain of Serbia World Cup Squad 2018. Serbia football team officially published final 23 player name list for Russia world cup 2018 including 3 Goalkeepers, 8 Defenders, 9 Midfielders and 3 Forwards players name.
Vladimir Stojković, Branislav Ivanović, Dušan Tadić, Aleksandar Mitrović, Aleksandar Kolarov are the key player in Serbia world cup 2018 squad. Serbia was not qualifed for last world cup 2014 and this is the 12th Fifa World cup match where playing Serbia national football team. 44 years old Mladen Krstajić is the official Serbia football team Coach for world cup 2018.
Serbia 2018 World Cup group:
From 8 groups in this world cup 2018 Serbia will be playing in Group E with Brazil (World Ranking 2), Costa Rica (World Ranking 25) and Switzerland (World Ranking 6). Serbia is the number 35 Fifa ranking team in the world.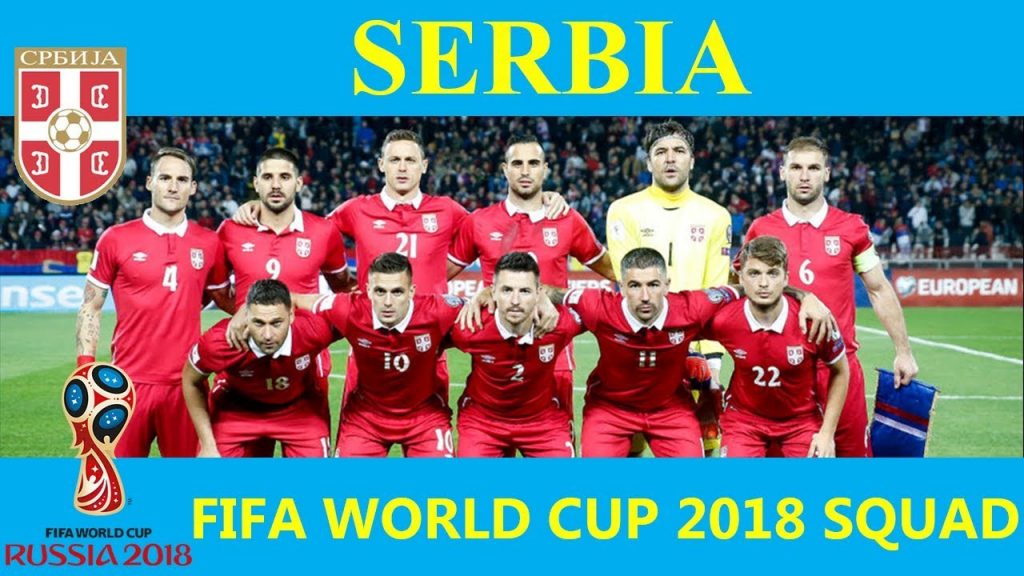 FIFA World cup 2018 Serbia football match schedule:
Fifa world cup 2018 Serbia match schedule was published in this article. you can download world cup 2018 football match schedule pdf in your local time table. Serbia will be played 3 football match in group round.
Match 10
Date: 17-06-2018
Indian Time: 05:30 PM (GMT+5:30)
Costa Rica vs Serbia
Cosmos Arena, Samara
Match 26
Date: 22-06-2018
Indian Time: 11:30 PM (GMT+5:30)
Switzerland vs Serbia
Kaliningrad Stadium, Kaliningrad
Match 41
Date: 27-06-2018
Indian Time: 11:30 PM (GMT+5:30)
Serbia vs Brazil
Spartak Stadium, Moscow
World Cup 2018 Serbia full Squad & player details:
The Serbia Coach for world cup 2018: Mladen Krstajić 4 March 1974 / Age 44)
SL No.
Position
Player Name
Date of birth & Age
Match
Total Goals

Serbia world cup 2018 squad: 3 Goalkeepers list

01
GK
Vladimir Stojković
28 July 1983 (aged 34)
79
0
02
GK
Marko Dmitrović
24 January 1992 (aged 26)
2
0
03
GK
Predrag Rajković
31 October 1995 (aged 22)
7
0

Fifa world cup 2018 Serbia squad: 8 Defenders list

04
DF
Antonio Rukavina
26 January 1984 (aged 34)
45
0
05
DF
Duško Tošić
19 January 1985 (aged 33)
22
1
06
DF
Nikola Milenković
12 October 1997 (aged 20)
1
0
07
DF
Miloš Veljković
26 September 1995 (aged 22)
2
0
08
DF
Branislav Ivanović
22 February 1984 (aged 34)
102
12
09
DF
Aleksandar Kolarov (captain)
10 November 1985 (aged 32)
74
10
10
DF
Milan Rodić
2 April 1991 (aged 27)
0
0
11
DF
Uroš Spajić
13 February 1993 (aged 25)
5
0

2018 world cup Serbia squad 9 Midfielder list

12
MF
Andrija Živković
11 July 1996 (aged 21)
9
0
13
MF
Dušan Tadić
20 November 1988 (aged 29)
51
13
14
MF
Nemanja Radonjić
15 February 1996 (aged 22)
1
0
15
MF
Luka Milivojević
7 April 1991 (aged 27)
26
1
16
MF
Filip Kostić
1 November 1992 (aged 25)
21
2
17
MF
Marko Grujić
13 April 1996 (aged 22)
6
0
18
MF
Sergej Milinković-Savić
27 February 1995 (aged 23)
2
0
19
MF
Nemanja Matić
1 August 1988 (aged 29)
38
2
20
MF
Adem Ljajić
29 September 1991 (aged 26)
27
5

Fifa world cup 2018 Serbia 3 Forward players list

21
FW
Aleksandar Prijović
21 April 1990 (aged 28)
8
1
22
FW
Aleksandar Mitrović
16 September 1994 (aged 23)
35
13
23
FW
Luka Jović
23 December 1997 (aged 20)
0
0