Mexico football coach Juan Carlos Osorio has announced Mexico final squad for the 2018 FIFA World Cup on 4 June 2018. Andrés Guardado is the captain of Mexico World Cup Squad 2018 football team. Mexico football team officially published final 23 men's player name list for Russia FIFA World cup 2018 including 3 Goalkeepers, 7 Defenders, 7 Midfielders and 6 Forwards players name.
A 28-man preliminary squad was announced on 14 May 2018. The squad was reduced to 27 players on 23 May as Néstor Araujo withdrew injured, then to 24 players on 2 June. Guillermo Ochoa, Rafael Márquez, Giovani dos Santos, Andrés Guardado, Javier Hernández, Carlos Vela are the key player in World Cup 2018 Mexico squad. 57 years old Juan Carlos Osorio is the official Mexico football team Coach for world cup 2018.
Mexico FIFA World Cup History:
Mexico was the host country of 1970 and 1986 Fifa World cup. Russia FIFA World cup 2018 is the 15th FIFA World Cup where Mexico national football team qualified for group matches.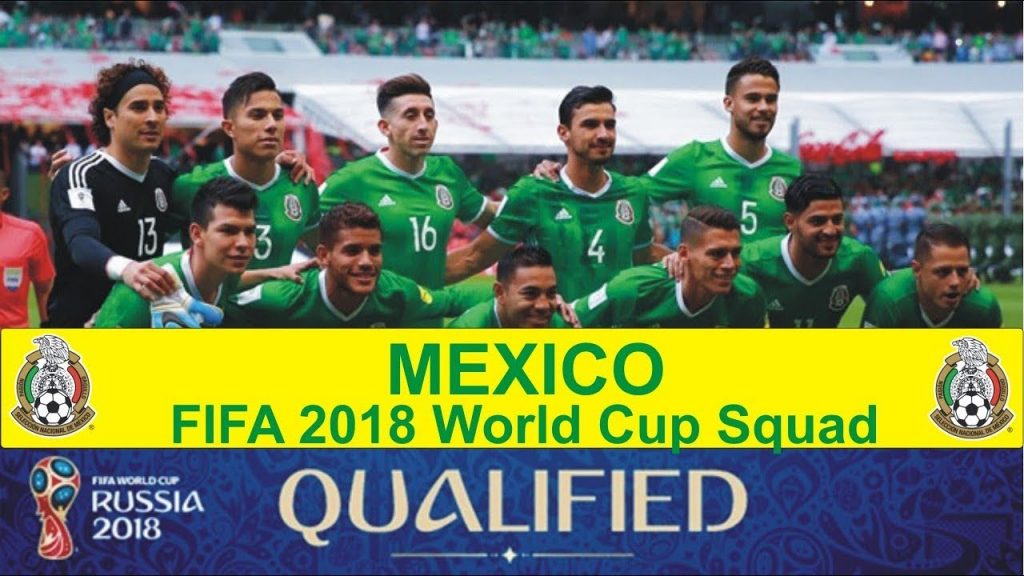 Mexico 2018 World Cup Ranking & group info:
From 8 groups in this world cup 2018 Mexico will be playing in Group F with Germany (World Ranking 1), Sweden (World Ranking 23) and South Korea (World Ranking 61). Mexico is the number 15 Fifa ranking team in the world.
FIFA World cup 2018 Mexico football match schedule:
FIFA world cup 2018 Mexico match schedule was published in this article. You can download world cup 2018 football match schedule pdf in your local time table. Mexico will be played 3 football matches in group round. This schedule was in IST Time (GMT+5:30).
Match 11
Date: 17-06-2018
Indian Time: 08:30 PM
Germany vs Mexico
Luzhniki Stadium, Moscow
Match 28
Date: 23-06-2018
Indian Time: 09:00 AM
Mexico vs South Korea
Levberdon Arena, Rostov-on-Don
Match 44
Date: 27-06-2018
Indian Time: 07:30 PM
Sweden vs Mexico
Central Stadium, Yekaterinburg
FIFA World Cup 2018 Mexico full Squad & player details:
The Mexico Coach for world cup 2018: Juan Carlos Osorio (8 June 1961 / Age 57)
SL No.
Position
Player Name
Date of birth & Age
Match
Total Goals

Mexico world cup 2018 squad; 3 Goalkeepers info

01
GK
José de Jesús Corona
26 January 1981 (aged 37)
52
0
02
GK
Alfredo Talavera
18 September 1982 (aged 35)
27
0
03
GK
Guillermo Ochoa
13 July 1985 (aged 32)
93
0

Fifa world cup 2018 Mexico squad; 7 Defenders list

04
DF
Hugo Ayala
31 March 1987 (aged 31)
42
1
05
DF
Carlos Salcedo
29 September 1993 (aged 24)
20
0
06
DF
Rafael Márquez
13 February 1979 (aged 39)
144
18
07
DF
Diego Reyes
19 September 1992 (aged 25)
55
1
08
DF
Héctor Moreno
17 January 1988 (aged 30)
91
3
09
DF
Héctor Herrera
19 April 1990 (aged 28)
65
5
10
DF
Edson Álvarez
24 October 1997 (aged 20)
12
1

2018 world cup Mexico squad; 7 Midfielder list

11
MF
Jonathan dos Santos
26 April 1990 (aged 28)
31
0
12
MF
Miguel Layún
25 June 1988 (aged 29)
63
6
13
MF
Giovani dos Santos
11 May 1989 (aged 29)
104
19
14
MF
Jesús Manuel Corona
6 January 1993 (aged 25)
35
7
15
MF
Andrés Guardado (captain)
28 September 1986 (aged 31)
144
25
16
MF
Javier Aquino
11 February 1990 (aged 28)
53
0
17
MF
Jesús Gallardo
15 August 1994 (aged 23)
22
0

Fifa world cup 2018 Mexico 6 Forward players list

18
FW
Marco Fabián
21 July 1989 (aged 28)
38
9
19
FW
Raúl Jiménez
5 May 1991 (aged 27)
63
13
20
FW
Carlos Vela
1 March 1989 (aged 29)
68
18
21
FW
Javier Hernández
1 June 1988 (aged 30)
101
49
22
FW
Oribe Peralta
12 January 1984 (aged 34)
66
26
23
FW
Hirving Lozano
30 July 1995 (aged 22)
27
7