Poland football coach Adam Nawałka has announced Poland final squad for the 2018 FIFA World Cup on 4 June 2018. Robert Lewandowski is the captain of Poland World Cup Squad 2018 football team. Poland football team officially published final 23 men's player name list for Russia FIFA World cup 2018 including 3 Goalkeepers, 7 Defenders, 9 Midfielders and 4 Forwards players name.
A 35-man preliminary squad was announced on 11 May 2018. The squad was reduced to 32 players on 18 May. Robert Lewandowski, Kamil Grosicki, Jakub Błaszczykowski, Łukasz Fabiański, Łukasz Piszczek are the key player in World Cup 2018 Poland squad. 60 years old Adam Nawałka is the official Poland football team Coach for world cup 2018.
Poland FIFA World Cup History:
Poland was not qualified in last FIFA World Cup 2014 and Russia FIFA World cup 2018 is the 8th FIFA World Cup where Poland national football team qualified for group matches.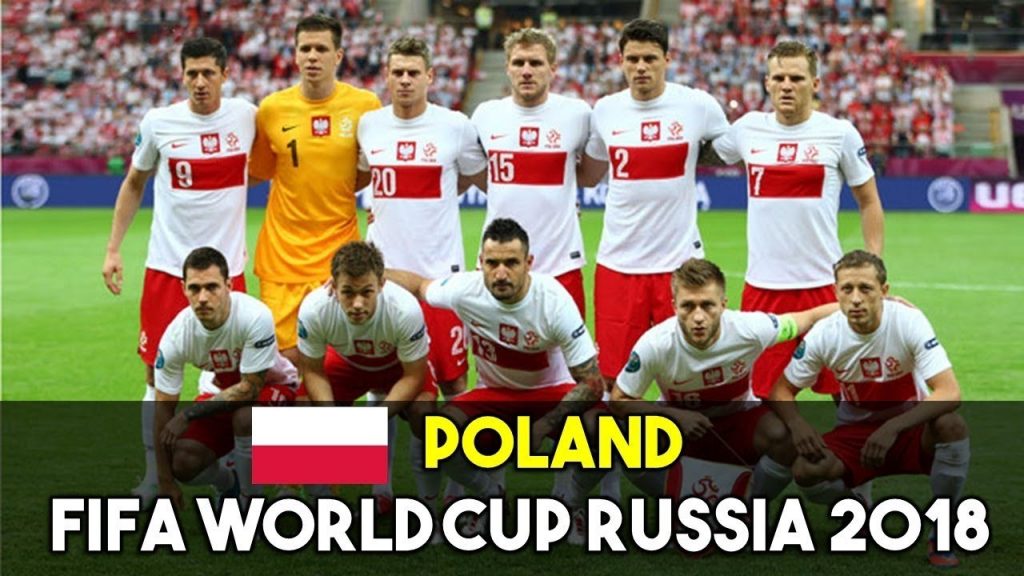 Poland 2018 World Cup Ranking & group info:
From 8 groups in this world cup 2018 Poland will be playing in Group H with Japan (World Ranking 60), Colombia (World Ranking 16) and Senegal (World Ranking 28). Poland is the number 10 Fifa ranking team in the world.
FIFA World cup 2018 Poland football match schedule:
FIFA world cup 2018 Poland match schedule was published in this article. You can download world cup 2018 football match schedule pdf in your local time table. Poland will be played 3 football matches in group round. This schedule was in IST Time (GMT+5:30).
Match 15
Date: 19-06-2018
Indian Time: 08:30 PM
Poland vs Senegal
Spartak Stadium, Moscow
Match 31
Date: 24-06-2018
Indian Time: 11:30 PM
Poland vs Colombia
Kazan Arena, Kazan
Match 47
Date: 28-06-2018
Indian Time: 07:30 PM
Japan vs Poland
Central Stadium, Volgograd
FIFA World Cup 2018 Poland full Squad & player details:
The Poland Coach for world cup 2018: Adam Nawałka (23 October 1957 / Age 60)
SL No.
Position
Player Name
Date of birth & Age
Match
Total Goals

Poland world cup 2018 squad; 3 Goalkeepers info

01
GK
Wojciech Szczęsny
18 April 1990 (aged 28)
33
0
02
GK
Bartosz Białkowski
6 July 1987 (aged 30)
1
0
03
GK
Łukasz Fabiański
18 April 1985 (aged 33)
43
0

Fifa world cup 2018 Poland squad; 7 Defenders list

04
DF
Michał Pazdan
21 September 1987 (aged 30)
31
0
05
DF
Artur Jędrzejczyk
4 November 1987 (aged 30)
35
3
06
DF
Thiago Cionek
21 April 1986 (aged 32)
17
0
07
DF
Jan Bednarek
12 April 1996 (aged 22)
1
0
08
DF
Kamil Glik
3 February 1988 (aged 30)
57
4
09
DF
Bartosz Bereszyński
12 July 1992 (aged 25)
6
0
10
DF
Łukasz Piszczek
3 June 1985 (aged 33)
61
3

2018 world cup Poland squad; 9 Midfielder list

11
MF
Jacek Góralski
21 September 1992 (aged 25)
3
0
12
MF
Karol Linetty
2 February 1995 (aged 23)
19
1
13
MF
Grzegorz Krychowiak
29 January 1990 (aged 28)
49
2
14
MF
Kamil Grosicki
8 June 1988 (aged 30)
56
12
15
MF
Maciej Rybus
19 August 1989 (aged 28)
49
2
16
MF
Jakub Błaszczykowski
14 December 1985 (aged 32)
97
19
17
MF
Sławomir Peszko
19 February 1985 (aged 33)
43
2
18
MF
Piotr Zieliński
20 May 1994 (aged 24)
31
4
19
MF
Rafał Kurzawa
29 January 1993 (aged 25)
3
0

Fifa world cup 2018 Poland 4 Forward players list

20
FW
Arkadiusz Milik
28 February 1994 (aged 24)
38
12
21
FW
Robert Lewandowski (captain)
21 August 1988 (aged 29)
93
52
22
FW
Łukasz Teodorczyk
3 June 1991 (aged 27)
15
4
23
FW
Dawid Kownacki
14 March 1997 (aged 21)
1
0