Belgium football coach Roberto Martínez has announced Belgium final squad for the 2018 FIFA World Cup on 4 June 2018. Andrés Guardado is the captain of Belgium World Cup Squad 2018 football team. Belgium football team officially published final 23 men's player name list for Russia FIFA World cup 2018 including 3 Goalkeepers, 7 Defenders, 8 Midfielders and 5 Forwards players name.
A 28-man preliminary squad was announced on 21 May 2018. Romelu Lukaku, Eden Hazard, Thibaut Courtois, Thomas Meunier, Kevin De Bruyne are the key player in World Cup 2018 Belgium squad. 44 years old Roberto Martínez is the official Belgium football team Coach for world cup 2018.
Belgium FIFA World Cup History:
Russia FIFA World cup 2018 is the 13th FIFA World Cup where Belgium national football team qualified for group matches.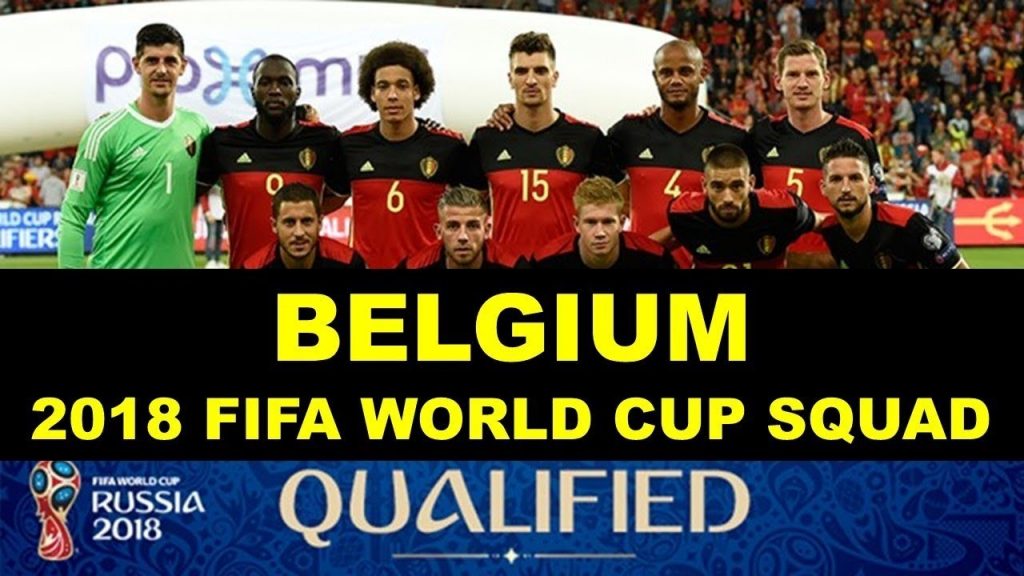 Belgium 2018 World Cup Ranking & group info:
From 8 groups in this world cup 2018 Belgium will be playing in Group G with Panama (World Ranking 55), Tunisia (World Ranking 14) and England (World Ranking 13). Belgium is the number 3 Fifa ranking team in the world.
FIFA World cup 2018 Belgium football match schedule:
FIFA world cup 2018 Belgium match schedule was published in this article. You can download world cup 2018 football match schedule pdf in your local time table. Belgium will be played 3 football matches in group round. This schedule was in IST Time (GMT+5:30).
Match 13
Date: 18-06-2018
Indian Time: 08:30 PM
Belgium vs Panama
Fisht Olympic Stadium, Sochi
Match 29
Date: 23-06-2018
Indian Time: 05:30 PM
Belgium vs Tunisia
Spartak Stadium, Moscow
Match 45
Date: 28-06-2018
Indian Time: 11:30 PM
England vs Belgium
Kaliningrad Stadium, Kaliningrad
FIFA World Cup 2018 Belgium full Squad & player details:
The Belgium Coach for world cup 2018: Roberto Martínez (13 July 1973 / Age 44)
SL No.
Position
Player Name
Date of birth & Age
Match
Total Goals

Belgium world cup 2018 squad; 3 Goalkeepers info

01
GK
Thibaut Courtois
11 May 1992 (aged 26)
57
0
02
GK
Simon Mignolet
6 March 1988 (aged 30)
21
0
03
GK
Koen Casteels
25 June 1992 (aged 25)
0
0

Fifa world cup 2018 Belgium squad; 7 Defenders list

04
DF
Toby Alderweireld
2 March 1989 (aged 29)
73
3
05
DF
Thomas Vermaelen
14 November 1985 (aged 32)
64
1
06
DF
Vincent Kompany
10 April 1986 (aged 32)
74
4
07
DF
Jan Vertonghen
24 April 1987 (aged 31)
101
8
08
DF
Thomas Meunier
12 September 1991 (aged 26)
24
5
09
DF
Dedryck Boyata
28 November 1990 (aged 27)
6
0
10
DF
Leander Dendoncker
15 April 1995 (aged 23)
4
0

2018 world cup Belgium squad; 8 Midfielder list

11
MF
Axel Witsel
12 January 1989 (aged 29)
86
9
12
MF
Kevin De Bruyne
28 June 1991 (aged 26)
58
13
13
MF
Marouane Fellaini
22 November 1987 (aged 30)
80
17
14
MF
Yannick Carrasco
4 September 1993 (aged 24)
24
5
15
MF
Thorgan Hazard
29 March 1993 (aged 25)
9
1
16
MF
Youri Tielemans
7 May 1997 (aged 21)
7
0
17
MF
Mousa Dembélé
16 July 1987 (aged 30)
74
5
18
MF
Nacer Chadli
2 August 1989 (aged 28)
42
4

Fifa world cup 2018 Belgium 5 Forward players list

19
FW
Romelu Lukaku
13 May 1993 (aged 25)
65
31
20
FW
Eden Hazard (captain)
7 January 1991 (aged 27)
83
22
21
FW
Dries Mertens
6 May 1987 (aged 31)
66
13
22
FW
Adnan Januzaj
5 February 1995 (aged 23)
8
0
23
FW
Michy Batshuayi
2 October 1993 (aged 24)
14
5