Tunisia football coach Nabil Maâloul has announced Tunisia final squad for the 2018 FIFA World Cup on 2 June 2018. Aymen Mathlouthi is the captain of Tunisia World Cup Squad 2018 football team. Tunisia football team officially published final 23 men's player name list for Russia FIFA World cup 2018 including 3 Goalkeepers, 8 Defenders, 4 Midfielders and 8 Forwards players name.
A 29-man preliminary squad was announced on 14 May 2018. Aymen Mathlouthi, Fakhreddine Ben Youssef, Wahbi Khazri, Ferjani Sassi, Ali Maâloul are the key player in World Cup 2018 Tunisia squad. 55 years old Nabil Maâloul is the official Tunisia football team Coach for world cup 2018.
Tunisia FIFA World Cup History:
Russia FIFA World cup 2018 is the 5th FIFA World Cup where Tunisia national football team qualified for group matches.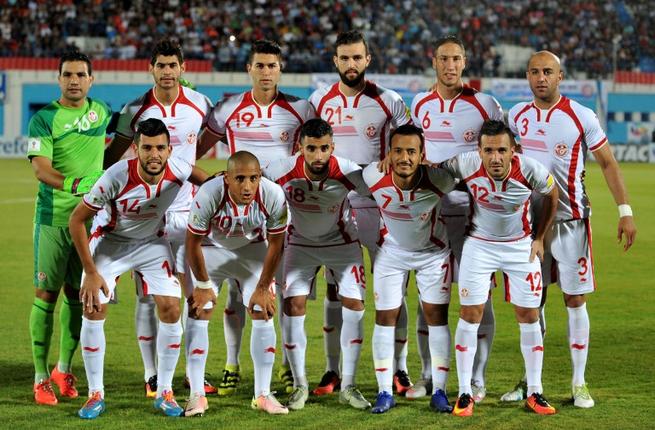 Tunisia 2018 World Cup Ranking & group info:
From 8 groups in this world cup 2018 Tunisia will be playing in Group G with Panama (World Ranking 55), Belgium (World Ranking 3) and England (World Ranking 13). Tunisia is the number 14 Fifa ranking team in the world.
FIFA World cup 2018 Tunisia football match schedule:
FIFA world cup 2018 Tunisia match schedule was published in this article. You can download world cup 2018 football match schedule pdf in your local time table. Tunisia will be played 3 football matches in group round. This schedule was in IST Time (GMT+5:30).
Match 14
Date: 18-06-2018
Indian Time: 11:30 PM
Tunisia vs England
Central Stadium, Volgograd
Match 29
Date: 23-06-2018
Indian Time: 05:30 PM
Belgium vs Tunisia
Spartak Stadium, Moscow
Match 46
Date: 28-06-2018
Indian Time: 11:30 PM
Tunisia vs Panama
Mordovia-Arena, Saransk
FIFA World Cup 2018 Tunisia full Squad & player details:
The Tunisia Coach for world cup 2018: Nabil Maâloul ( 25 July 1962 / Age 55)
SL No.
Position
Player Name
Date of birth & Age
Match
Total Goals

Tunisia world cup 2018 squad; 3 Goalkeepers info

01
GK
Farouk Ben Mustapha
1 July 1989 (aged 28)
15
0
02
GK
Aymen Mathlouthi (captain)
14 September 1984 (aged 33)
69
0
03
GK
Mouez Hassen
5 March 1995 (aged 23)
3
0

Fifa world cup 2018 Tunisia squad; 8 Defenders list

04
DF
Syam Ben Youssef
31 March 1989 (aged 29)
41
1
05
DF
Yohan Benalouane
28 March 1987 (aged 31)
3
0
06
DF
Yassine Meriah
2 July 1993 (aged 24)
15
1
07
DF
Oussama Haddadi
28 January 1992 (aged 26)
8
0
08
DF
Rami Bedoui
19 January 1990 (aged 28)
8
0
09
DF
Dylan Bronn
19 June 1995 (aged 22)
4
0
10
DF
Ali Maâloul
1 January 1990 (aged 28)
45
0
11
DF
Hamdi Nagguez
28 October 1992 (aged 25)
15
0

2018 world cup Tunisia squad; 4 Midfielder list

12
MF
Anice Badri
18 September 1990 (aged 27)
6
2
13
MF
Ferjani Sassi
18 March 1992 (aged 26)
38
3
14
MF
Mohamed Amine Ben Amor
3 May 1992 (aged 26)
25
1
15
MF
Ellyes Skhiri
10 May 1995 (aged 23)
4
0

Fifa world cup 2018 Tunisia 8 Forward players list

16
FW
Saîf-Eddine Khaoui
27 April 1995 (aged 23)
4
0
17
FW
Fakhreddine Ben Youssef
23 June 1991 (aged 26)
38
5
18
FW
Wahbi Khazri
8 February 1991 (aged 27)
35
12
19
FW
Ahmed Khalil
21 December 1994 (aged 23)
3
0
20
FW
Bassem Srarfi
25 June 1997 (aged 20)
4
0
21
FW
Saber Khalifa
14 October 1986 (aged 31)
43
7
22
FW
Ghailene Chaalali
28 February 1994 (aged 24)
6
1
23
FW
Naïm Sliti
27 July 1992 (aged 25)
16
3