England 2018 World Cup group:
From 8 groups in this world cup 2018 England will be playing in Group G with Belgium (World Ranking 3), Panama(World Ranking 55) and Tunisia (World Ranking 14). England is the 13 Fifa ranking team in the world.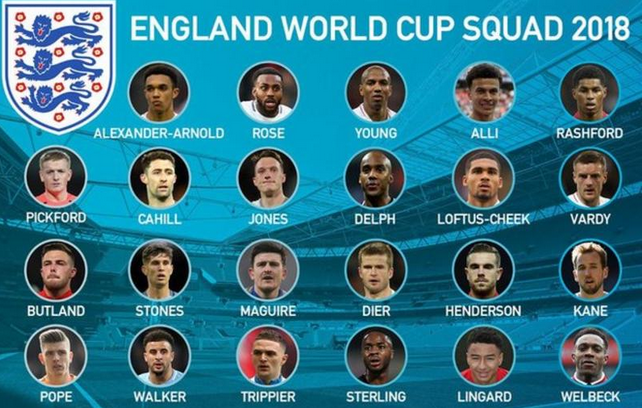 FIFA World cup 2018 England football match schedule:
Fifa world cup 2018 England match schedule was published in this article. you can download world cup 2018 football match schedule pdf in your local time table. England will be played 3 football match in G group round.
Match 14
Date: 18-06-2018
IST 11:30 PM (GMT+5:30)
Tunisia vs England
Central Stadium, Volgograd
Match 30
Date: 24-06-2018
IST 05:30 PM (GMT+5:30)
Panama vs England
Strelka Stadium, Nizhny Novgorod
Match 45
Date: 28-06-2018
IST 11:30 PM (GMT+5:30)
England vs Belgium
Kaliningrad Stadium, Kaliningrad
World Cup 2018 England full Squad & player details:
The England Coach for world cup 2018: Gareth Southgate (3 September 1970 / Age 47)
SL No.
Position
Player Name
Date of birth & Age
Total Goals

England world cup 2018 squad: 3 Goalkeepers list

01
GK
Jack Butland
10 March 1993 (aged 25)
0
02
GK
Jordan Pickford
7 March 1994 (aged 24)
0
03
GK
Nick Pope
19 April 1992 (aged 26)
0

Fifa world cup 2018 England squad: 10 Defenders list

04
DF
Trent Alexander-Arnold
7 October 1998 (aged 19)
0
05
DF
Gary Cahill
19 December 1985 (aged 32)
4
06
DF
Fabian Delph
21 November 1989 (aged 28)
0
07
DF
Phil Jones
21 February 1992 (aged 26)
0
08
DF
Harry Maguire
5 March 1993 (aged 25)
0
09
DF
Danny Rose
2 July 1990 (aged 27)
0
10
DF
John Stones
28 May 1994 (aged 24)
0
11
DF
Kieran Trippier
19 September 1990 (aged 27)
0
12
DF
Kyle Walker
28 May 1990 (aged 28)
0
13
DF
Ashley Young
9 July 1985 (aged 32)
7

2018 world cup England squad 5 Midfielder list

14
MF
Dele Alli
11 April 1996 (aged 22)
2
15
MF
Eric Dier
15 January 1994 (aged 24)
3
16
MF
Jordan Henderson
17 June 1990 (aged 27)
0
17
MF
Jesse Lingard
15 December 1992 (aged 25)
1
18
MF
Ruben Loftus-Cheek
23 January 1996 (aged 22)
0

Fifa world cup 2018 England 5 Forward players list

19
FW
Harry Kane
28 July 1993 (aged 24)
12
20
FW
Marcus Rashford
31 October 1997 (aged 20)
2
21
FW
Raheem Sterling
8 December 1994 (aged 23)
2
22
FW
Jamie Vardy
11 January 1987 (aged 31)
7
23
FW
Danny Welbeck
26 November 1990 (aged 27)
15