Portugal coach Fernando Santos has announced for Portugal final 23-man squad for the 2018 FIFA World Cup on 17 May 2018. World number 1 football player "Cristiano Ronaldo" is the captain of Fifa World cup 2018 Portugal national teams. Portugal football team officially published 23 player name list for Russia world cup 2018 including 3 Goalkeepers, 7 Midfielders, 8 Defenders and 5 Forwards player names.
Cristiano Ronaldo, André Silva, Ricardo Quaresma, João Moutinho, Bruno Alves are the star player in Portugal world cup 2018 squad. Portugal was never win the Fifa world cup, but they are UEFA Euro 2016 Champion team and this year favorite team in 2018 world cup list. 63 years old Fernando Santos is the official Portugal football team Coach for world cup 2018.
Portugal 2018 World Cup group:
From 8 groups in this world cup 2018 Portugal will be playing in Group B with Spain (World Ranking 8), Morocco (World Ranking 42) and Iran (World Ranking 36). Portugal is the number 4 Fifa ranking team in the world.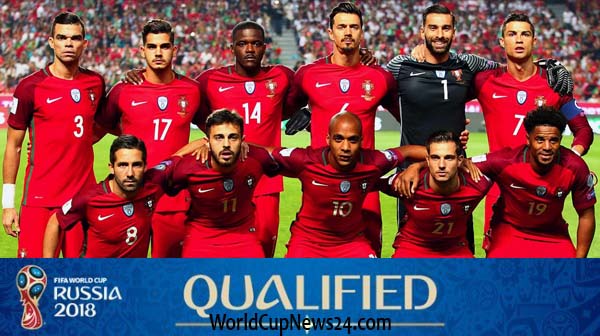 FIFA World cup 2018 Portugal football match schedule:
Fifa world cup 2018 Portugal match schedule was published in this article. you can download world cup 2018 football match schedule pdf in your local time table. Portugal will be played 3 football match in group round.
Match 03
June 15, 2018
IST 11:30 PM (GMT+5:30)
Portugal vs Spain
Fisht Olympic Stadium, Sochi
Match 19
June 20, 2018
IST 5:30 PM (GMT+5:30)
Portugal vs Morocco
Luzhniki Stadium, Moscow
Match 35
June 25, 2018
IST 11:30 PM (GMT+5:30)
Iran vs Portugal
Mordovia Arena, Saransk
World Cup 2018 Portugal full Squad & player details:
The Portugal Coach for world cup 2018: Fernando Santos (10 October 1954 / Age 63)
SL No.
Position
Player Name
Date of birth & Age
Total Goals

Portugal world cup 2018 squad: 3 Goalkeepers list

01
GK
Rui Patrício
15 February 1988 (aged 30)
0
02
GK
Beto
1 June 1982 (aged 36)
0
03
GK
Anthony Lopes
1 October 1990 (aged 27)
0

Fifa world cup 2018 Portugal squad: 8 Defenders list

04
DF
Cédric
31 August 1991 (aged 26)
1
05
DF
Ricardo Pereira
6 October 1993 (aged 24)
0
06
DF
Pepe
26 February 1983 (aged 35)
5
07
DF
José Fonte
22 December 1983 (aged 34)
0
08
DF
Bruno Alves
27 November 1981 (aged 36)
11
09
DF
Rúben Dias
14 May 1997 (aged 21)
0
10
DF
Raphaël Guerreiro
22 December 1993 (aged 24)
2
11
DF
Mário Rui
27 May 1991 (aged 27)
0

2018 world cup Portugal squad 7 Midfielder list

12
MF
João Moutinho
8 September 1986 (aged 31)
7
13
MF
William Carvalho
7 April 1992 (aged 26)
2
14
MF
João Mário
19 January 1993 (aged 25)
1
15
MF
Manuel Fernandes
5 February 1986 (aged 32)
3
16
MF
Adrien Silva
15 March 1989 (aged 29)
1
17
MF
Bruno Fernandes
8 September 1994 (aged 23)
0
18
MF
Bernardo Silva
10 August 1994 (aged 23)
2

Fifa world cup 2018 Portugal 5 Forward players list

19
FW
Cristiano Ronaldo (captain)
5 February 1985 (aged 33)
81
20
FW
André Silva
6 November 1995 (aged 22)
11
21
FW
Gonçalo Guedes
29 November 1996 (aged 21)
1
22
FW
Gelson Martins
11 May 1995 (aged 23)
0
23
FW
Ricardo Quaresma
26 September 1983 (aged 34)
9