Morocco coach Hervé Renard has announced for Morocco 23-man final squad for the 2018 FIFA World Cup on 17 May 2018. Medhi Benatia is the captain of Morocco World Cup Squad 2018. Morocco football team officially published 23 player name list for Russia world cup 2018 including 3 Goalkeepers, 7 Defenders, 10 Midfielders and 3 Forwards players name.
Khalid Boutaïb, Ayoub El Kaabi, Mbark Boussoufa, Hakim Ziyech, Medhi Benatia are the top player in Morocco world cup 2018 squad. Morocco never played in Fifa World cup final match. 49 years old Hervé Renard is the official Morocco football team Coach for world cup 2018.
Morocco 2018 World Cup group:
From 8 groups in this world cup 2018 Morocco will be playing in Group B with Iran (World Ranking 36), Spain (World Ranking 8) and Portugal (World Ranking 4). Morocco is the number 42 Fifa ranking team in the world.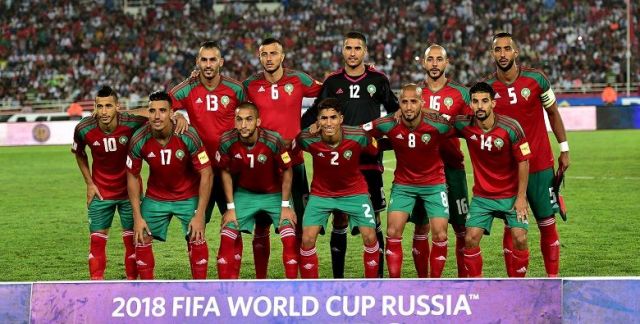 FIFA World cup 2018 Morocco football match schedule:
Fifa world cup 2018 Morocco match schedule was published in this article. you can download world cup 2018 football match schedule pdf in your local time table. Morocco will be played 3 football match in group round.
Match 4
Date: 15-06-2018
Indian Time: 08:30 PM (GMT+5:30)
Morocco vs Iran
Zenit Arena, Saint Petersburg
Match 19
Date: 20-06-2018
Indian Time: 05:30 PM (GMT+5:30)
Portugal vs Morocco
Luzhniki Stadium, Moscow
Match 36
Date: 25-06-2018
Indian Time: 11:30 PM (GMT+5:30)
Spain vs Morocco
Central Stadium, Yekaterinburg
World Cup 2018 Morocco full Squad & player details:
The Morocco Coach for world cup 2018: Hervé Renard (30 September 1968 / Age 49)
SL No.
Position
Player Name
Date of birth & Age
Match
Total Goals

Morocco world cup 2018 squad: 3 Goalkeepers list

01
GK
Munir Mohamedi
10 May 1989 (aged 29)
25
0
02
GK
Yassine Bounou
5 April 1991 (aged 27)
10
0
03
GK
Ahmed Reda Tagnaouti
5 April 1996 (aged 22)
2
0

Fifa world cup 2018 Morocco squad: 7 Defenders list

04
DF
Medhi Benatia (captain)
17 April 1987 (aged 31)
54
2
05
DF
Nabil Dirar
25 February 1986 (aged 32)
34
3
06
DF
Manuel da Costa
6 May 1986 (aged 32)
25
1
07
DF
Romain Saïss
26 March 1990 (aged 28)
21
1
08
DF
Hamza Mendyl
21 October 1997 (aged 20)
11
0
09
DF
Badr Banoun
30 September 1993 (aged 24)
9
1
10
DF
Achraf Hakimi
4 November 1998 (aged 19)
7
1

2018 world cup Morocco squad 10 Midfielder list

11
MF
Mbark Boussoufa
15 August 1984 (aged 33)
56
7
12
MF
Karim El Ahmadi
27 January 1985 (aged 33)
48
1
13
MF
Younès Belhanda
25 February 1990 (aged 28)
44
3
14
MF
Nordin Amrabat
31 March 1987 (aged 31)
41
4
15
MF
Fayçal Fajr
1 August 1988 (aged 29)
21
2
16
MF
Hakim Ziyech
19 March 1993 (aged 25)
15
8
17
MF
Youssef Aït Bennasser
7 July 1996 (aged 21)
11
0
18
MF
Mehdi Carcela
1 July 1989 (aged 28)
19
1
19
MF
Sofyan Amrabat
21 August 1996 (aged 21)
4
0
20
MF
Amine Harit
18 June 1997 (aged 20)
3
0

Fifa world cup 2018 Morocco 3 Forward players list

21
FW
Khalid Boutaïb
24 April 1987 (aged 31)
15
7
22
FW
Aziz Bouhaddouz
29 January 1987 (aged 31)
13
3
23
FW
Ayoub El Kaabi
26 June 1993 (aged 24)
8
10