Spain coach Julen Lopetegui has announced for Spain 23-man final squad for the 2018 FIFA World Cup on 21 May 2018. Sergio Ramos is the captain of Spain World Cup Squad 2018. Spain football team officially published 23 player name list for Russia world cup 2018 including 3 Goalkeepers, 8 Defenders, 8 Midfielders and 4 Forwards players name.
Diego Costa, Sergio Busquets, David Silva, Andrés Iniesta, Sergio Ramos are the top player in Spain world cup 2018 squad. Spain was played one time in Fifa World cup 2010 final match and also the world cup champion team 2010. 51 years old Julen Lopetegui is the official Spain football team Coach for world cup 2018.
Spain 2018 World Cup group:
From 8 groups in this world cup 2018 Spain will be playing in Group B with Iran (World Ranking 36), Morocco(World Ranking 42) and Portugal (World Ranking 4). Spain is the number 8 Fifa ranking team in the world.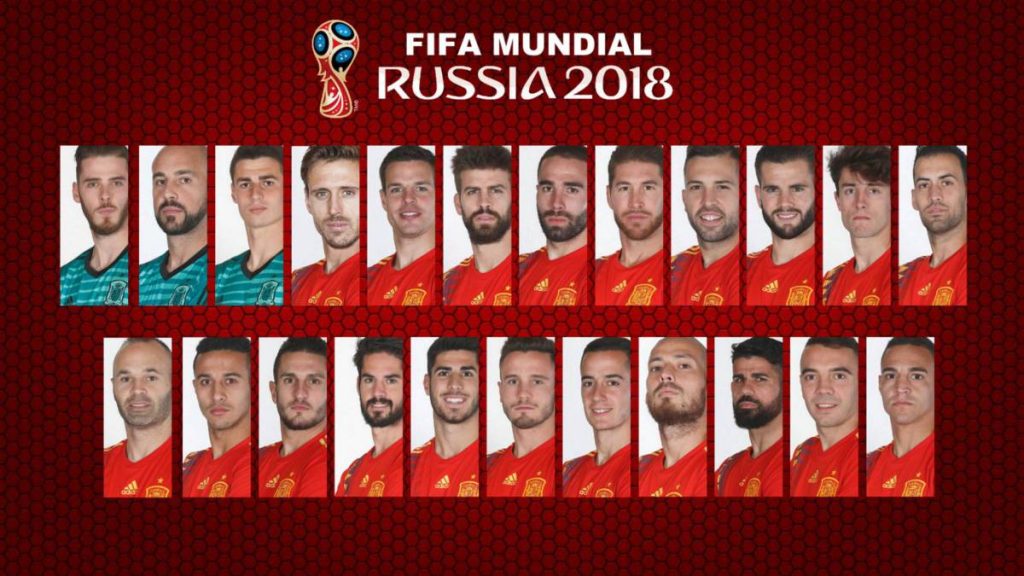 FIFA World cup 2018 Spain football match schedule:
Fifa world cup 2018 Spain match schedule was published in this article. you can download world cup 2018 football match schedule pdf in your local time table. Spain will be played 3 football match in group round.
Match 3
Date: 15-06-2018
Indian Time: 11:30 PM (GMT+5:30)
Portugal vs Spain
Fisht Olympic Stadium, Sochi
Match 20
Date: 20-06-2018
Indian Time: 11:30 PM (GMT+5:30)
Spain vs Iran
Kazan Arena, Kazan
Match 36
Date: 25-06-2018
Indian Time: 11:30 PM (GMT+5:30)
Spain vs Morocco
Central Stadium, Yekaterinburg
World Cup 2018 Spain full Squad & player details:
The Spain Coach for world cup 2018: Julen Lopetegui (28 August 1966 / Age 51)
SL No.
Position
Player Name
Date of birth & Age
Match
Total Goals

Spain world cup 2018 squad: 3 Goalkeepers list

01
GK
David de Gea
7 November 1990 (aged 27)
27
0
02
GK
Pepe Reina
31 August 1982 (aged 35)
36
0
03
GK
Kepa Arrizabalaga
3 October 1994 (aged 23)
1
0

Fifa world cup 2018 Spain squad: 8 Defenders list

04
DF
Sergio Ramos (captain)
30 March 1986 (aged 32)
151
13
05
DF
Gerard Piqué
2 February 1987 (aged 31)
96
5
06
DF
Jordi Alba
21 March 1989 (aged 29)
60
8
07
DF
César Azpilicueta
28 August 1989 (aged 28)
21
0
08
DF
Dani Carvajal
11 January 1992 (aged 26)
15
0
09
DF
Nacho
18 January 1990 (aged 28)
15
0
10
DF
Álvaro Odriozola
14 December 1995 (aged 22)
2
0
11
DF
Nacho Monreal
26 February 1986 (aged 32)
21
1

2018 world cup Spain squad 8 Midfielder list

12
MF
Andrés Iniesta
11 May 1984 (aged 34)
125
14
13
MF
Koke
8 January 1992 (aged 26)
38
0
14
MF
Isco
21 April 1992 (aged 26)
27
10
15
MF
Thiago
11 April 1991 (aged 27)
27
2
16
MF
Marco Asensio
21 January 1996 (aged 22)
10
0
17
MF
Saúl
21 November 1994 (aged 23)
9
0
18
MF
David Silva
8 January 1986 (aged 32)
119
35
19
MF
Sergio Busquets
16 July 1988 (aged 29)
102
2

Fifa world cup 2018 Spain 4 Forward players list

20
FW
Diego Costa
7 October 1988 (aged 29)
18
7
21
FW
Iago Aspas
1 August 1987 (aged 30)
8
4
22
FW
Lucas Vázquez
1 July 1991 (aged 26)
5
0
23
FW
Rodrigo
6 March 1991 (aged 27)
4
2