Sweden coach Janne Andersson has announced for Sweden final 23-man squad for the 2018 FIFA World Cup on 15 May 2018. Andreas Granqvist is the captain of Fifa World cup 2018 Sweden national football teams. Sweden football team officially published 23 player name list for Russia world cup 2018 including 3 Goalkeepers, 8 Midfielders, 8 Defenders and 4 Forwards player names. Marcus Berg, Ola Toivonen, Mikael Lustig, Emil Forsberg, Isaac Kiese Thelin are the star player in Sweden world cup 2018 squad. Sweden was World cup Runners up team in FIFA world cup 1958. Janne Andersson (29 September 1962 / Age 55) is the official Sweden Coach for world cup 2018.
Sweden 2018 World Cup group:
From 8 groups in this world cup 2018 Sweden will be playing in Group F with Germany (World Ranking 1), Mexico(World Ranking 15) and South Korea (World Ranking 61). Sweden is the 23 Fifa ranking team in the world.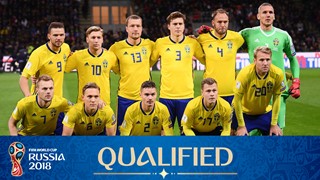 FIFA World cup 2018 Sweden football match schedule:
Fifa world cup 2018 Sweden match schedule was published in this article. you can download world cup 2018 football match schedule pdf in your local time table. Sweden will be played 3 football match in group round.
Match 12
Date: 18-06-2018
Indian Time: 05:30 PM
Sweden vs South Korea
Strelka Stadium, Nizhny Novgorod
Match 27
Date: 23-06-2018
Indian Time: 11:30 PM
Germany vs Sweden
Fisht Olympic Stadium, Sochi
Match 44
Date: 27-06-2018
Indian Time: 07:30 PM
Sweden vs Mexico
Central Stadium, Yekaterinburg
World Cup 2018 Sweden full Squad & player details:
The Sweden Coach for world cup 2018: Janne Andersson (29 September 1962 / Age 55)
SL No.
Position
Player Name
Date of birth & Age
Total Goals

Sweden world cup 2018 squad: 3 Goalkeepers list

01
GK
Robin Olsen
8 January 1990 (aged 28)
0
02
GK
Karl-Johan Johnsson
28 January 1990 (aged 28)
0
03
GK
Kristoffer Nordfeldt
23 June 1989 (aged 28)
0

Fifa world cup 2018 Sweden squad: 8 Defenders list

04
DF
Mikael Lustig
13 December 1986 (aged 31)
6
05
DF
Victor Lindelöf
17 July 1994 (aged 23)
1
06
DF
Andreas Granqvist (captain)
16 April 1985 (aged 33)
6
07
DF
Martin Olsson
17 May 1988 (aged 30)
5
08
DF
Ludwig Augustinsson
21 April 1994 (aged 24)
0
09
DF
Filip Helander
22 April 1993 (aged 25)
0
10
DF
Emil Krafth
2 August 1994 (aged 23)
0
11
DF
Pontus Jansson
13 February 1991 (aged 27)
0

2018 world cup Sweden squad 8 Midfielder list

12
MF
Sebastian Larsson
6 June 1985 (aged 33)
6
13
MF
Albin Ekdal
28 July 1989 (aged 28)
0
14
MF
Emil Forsberg
23 October 1991 (aged 26)
6
15
MF
Gustav Svensson
7 February 1987 (aged 31)
0
16
MF
Oscar Hiljemark
28 June 1992 (aged 25)
2
17
MF
Viktor Claesson
2 January 1992 (aged 26)
3
18
MF
Marcus Rohdén
11 May 1991 (aged 27)
1
19
MF
Jimmy Durmaz
22 March 1989 (aged 29)
3

Fifa world cup 2018 Sweden 4 Forward players list

20
FW
Marcus Berg
17 August 1986 (aged 31)
18
21
FW
John Guidetti
15 April 1992 (aged 26)
1
22
FW
Ola Toivonen
3 July 1986 (aged 31)
13
23
FW
Isaac Kiese Thelin
24 June 1992 (aged 25)
2