Iran coach Carlos Queiroz has announced Iran final squad for the 2018 FIFA World Cup on 4 June 2018. Masoud Shojaei is the captain of Iran World Cup Squad 2018 football team. Iran football team officially published final 23 men's player name list for Russia world cup 2018 including 3 Goalkeepers, 8 Defenders, 5 Midfielders and 7 Forwards players name.
A 35-man preliminary squad was announced on 13 May 2018. The squad was reduced to 24 players on 20 May. Ehsan Hajsafi, Mehdi Torabi, Karim Ansarifard, Reza Ghoochannejhad, Mehdi Taremi, Sardar Azmoun are the key player in World Cup 2018 Iran squad. 65 years old Carlos Queiroz is the official Iran football team Coach for world cup 2018.
Iran FIFA World Cup History:
First time Iran played Fifa World cup in 1978 and 2018 World cup is the 5th FIFA World Cup where Iran national football team qualified for group matches.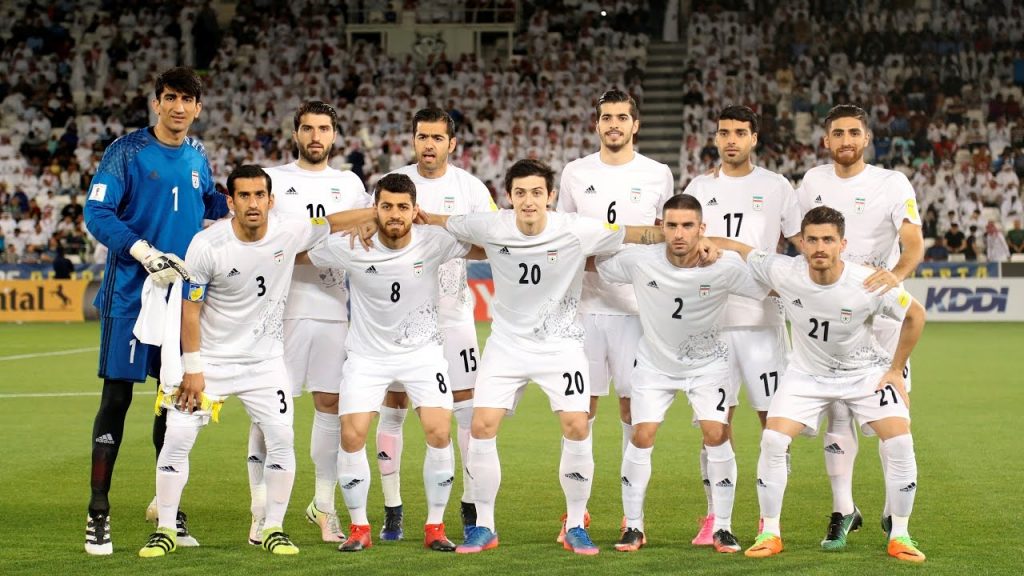 Iran 2018 World Cup group teams:
From 8 groups in this world cup 2018 Iran will be playing in Group B with Morocco (World Ranking 42), Portugal (World Ranking 4) and Spain (World Ranking 8). Iran is the number 36 Fifa ranking team in the world.
FIFA World cup 2018 Iran football match schedule:
FIFA world cup 2018 Iran match schedule was published in this article. You can download world cup 2018 football match schedule pdf in your local time table. Iran will play 3 football matches in group round. This schedule was in IST Time (GMT+5:30).
Match 4
Date: 15-06-2018
Indian Time: 08:30 PM
Morocco vs Iran
Zenit Arena, Saint Petersburg
Match 20
Date: 20-06-2018
Indian Time: 11:30 PM
Spain vs Iran
Kazan Arena, Kazan
Match 35
Date: 25-06-2018
Indian Time: 11:30 PM
Iran vs Portugal
Mordovia-Arena, Saransk
World Cup 2018 Iran full Squad & player details:
The Iran Coach for world cup 2018: Carlos Queiroz (1 March 1953 / Age 65)
SL No.
Position
Player Name
Date of birth & Age
Match
Total Goals

Iran world cup 2018 squad; 3 Goalkeepers info

01
GK
Alireza Beiranvand
21 September 1992 (aged 25)
21
0
02
GK
Mohammad Rashid Mazaheri
18 May 1989 (aged 29)
3
0
03
GK
Amir Abedzadeh
26 April 1993 (aged 25)
1
0

Fifa world cup 2018 Iran squad; 8 Defenders list

04
DF
Ehsan Hajsafi
25 February 1990 (aged 28)
93
6
05
DF
Rouzbeh Cheshmi
24 July 1993 (aged 24)
9
1
06
DF
Milad Mohammadi
29 September 1993 (aged 24)
18
0
07
DF
Morteza Pouraliganji
19 April 1992 (aged 26)
26
2
08
DF
Mohammad Reza Khanzadeh
11 May 1991 (aged 27)
11
1
09
DF
Pejman Montazeri
6 September 1983 (aged 34)
46
1
10
DF
Majid Hosseini
20 June 1996 (aged 21)
1
0
11
DF
Ramin Rezaeian
21 March 1990 (aged 28)
27
2

2018 world cup Iran squad; 5 Midfielder list

12
MF
Mehdi Torabi
10 September 1994 (aged 23)
16
4
13
MF
Saeid Ezatolahi
1 October 1996 (aged 21)
25
1
14
MF
Masoud Shojaei (captain)
9 June 1984 (aged 34)
73
8
15
MF
Omid Ebrahimi
16 September 1987 (aged 30)
29
0
16
MF
Vahid Amiri
2 April 1988 (aged 30)
35
1

Fifa world cup 2018 Iran 7 Forward players list

17
FW
Karim Ansarifard
3 April 1990 (aged 28)
63
16
18
FW
Saman Ghoddos
6 September 1993 (aged 24)
7
1
19
FW
Reza Ghoochannejhad
20 September 1987 (aged 30)
42
17
20
FW
Mehdi Taremi
18 July 1992 (aged 25)
25
11
21
FW
Alireza Jahanbakhsh
11 August 1993 (aged 24)
37
4
22
FW
Sardar Azmoun
1 January 1995 (aged 23)
32
23
23
FW
Ashkan Dejagah
5 July 1986 (aged 31)
45
9