Uruguay coach Óscar Tabárez has announced Uruguay final squad for the 2018 FIFA World Cup on 2 June 2018. Diego Godín is the captain of Uruguay World Cup Squad 2018 football team. Uruguay football team officially published final 23 men's player name list for Russia world cup 2018 including 3 Goalkeepers, 7 Defenders, 7 Midfielders and 6 Forwards players name.
A 26-man preliminary squad was announced on 15 May 2018. Fernando Muslera, Diego Godín, Maxi Pereira, Luis Suárez, Edinson Cavani are the key player in World Cup 2018 Uruguay squad. 71 years old Óscar Tabárez is the official Uruguay football team Coach for world cup 2018.
Uruguay FIFA World Cup History:
Uruguay was the 1st FIFA World Cup tournament champion team in 1930. Uruguay was total 2 time Fifa World cup final winner (1930 & 1950) and 13th time Fifa World cup tournament qualified team including Russia FIFA World Cup 2018.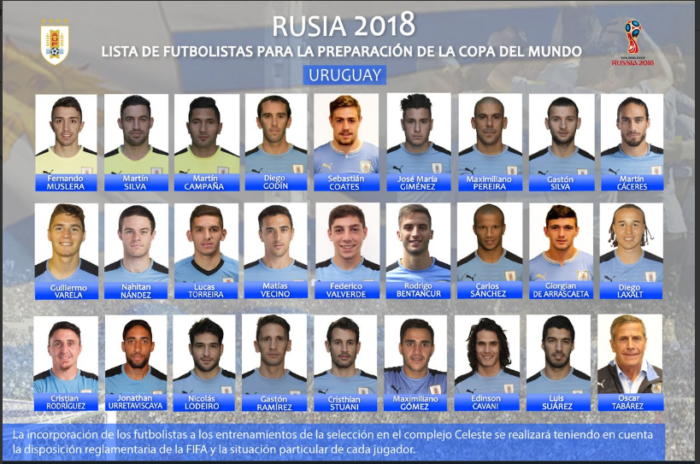 Uruguay 2018 World Cup group teams:
From 8 groups in this world cup 2018 Uruguay will be playing in Group A with Egypt (World Ranking 46), Russia (World Ranking 66) and Saudi Arabia (World Ranking 70). Uruguay is the number 17 Fifa ranking team in the world.
FIFA World cup 2018 Uruguay football match schedule:
FIFA world cup 2018 Uruguay match schedule was published in this article. You can download world cup 2018 football match schedule pdf in your local time table. Uruguay will play 3 football matches in group round. This schedule was in IST Time (GMT+5:30).
Match 2
Date: 15-06-2018
Indian Time: 05:30 PM
Egypt vs Uruguay
Central Stadium, Yekaterinburg
Match 18
Date: 20-06-2018
Indian Time: 08:30 PM
Uruguay vs Saudi Arabia
Levberdon Arena, Rostov-on-Don
Match 33
Date: 25-06-2018
Indian Time: 07:30 PM
Uruguay vs Russia
Cosmos Arena, Samara
World Cup 2018 Uruguay full Squad & player details:
The Uruguay Coach for world cup 2018: Óscar Tabárez (3 March 1947 / Age 71)
SL No.
Position
Player Name
Date of birth & Age
Match
Total Goals

Uruguay world cup 2018 squad; 3 Goalkeepers info

01
GK
Fernando Muslera
16 June 1986 (aged 31)
96
0
02
GK
Martín Campaña
29 May 1989 (aged 29)
1
0
03
GK
Martín Silva
25 March 1983 (aged 35)
11
0

Fifa world cup 2018 Uruguay squad; 7 Defenders list

04
DF
José Giménez
20 January 1995 (aged 23)
41
4
05
DF
Diego Godín (captain)
16 February 1986 (aged 32)
115
8
06
DF
Guillermo Varela
24 March 1993 (aged 25)
3
0
07
DF
Gastón Silva
5 March 1994 (aged 24)
17
0
08
DF
Maxi Pereira
8 June 1984 (aged 34)
124
3
09
DF
Sebastián Coates
7 October 1990 (aged 27)
30
1
10
DF
Martín Cáceres
7 April 1987 (aged 31)
75
4

2018 world cup Uruguay squad; 7 Midfielder list

11
MF
Carlos Sánchez
2 December 1984 (aged 33)
35
1
12
MF
Rodrigo Bentancur
25 June 1997 (aged 20)
6
0
13
MF
Cristian Rodríguez
30 September 1985 (aged 32)
104
11
14
MF
Nahitan Nández
28 December 1995 (aged 22)
11
0
15
MF
Lucas Torreira
11 February 1996 (aged 22)
2
0
16
MF
Matías Vecino
24 August 1991 (aged 26)
21
1
17
MF
Diego Laxalt
7 February 1993 (aged 25)
5
0

Fifa world cup 2018 Uruguay 6 Forward players list

18
FW
Luis Suárez
24 January 1987 (aged 31)
97
50
19
FW
Giorgian De Arrascaeta
1 June 1994 (aged 24)
13
1
20
FW
Cristhian Stuani
12 October 1986 (aged 31)
40
5
21
FW
Maxi Gómez
14 August 1996 (aged 21)
4
0
22
FW
Jonathan Urretaviscaya
19 March 1990 (aged 28)
4
0
23
FW
Edinson Cavani
14 February 1987 (aged 31)
100
42