Costa Rica coach Óscar Ramírez has already announced for Costa Rica final 23-man squad for the 2018 FIFA World Cup on 14 May 2018. Bryan Ruiz is captain of Fifa World cup 2018 Costa Rica national football teams. Costa Rica football team officially published 23 player name list for Russia world cup 2018 including 3 Goalkeepers, 7 Midfielders, 9 Defenders and 4 Forwards player names. Costa Rica is the 25 Fifa ranking team in the world. Óscar Ramírez (December 8, 1964 / Age 53) is the Costa Rica Coach for world cup 2018.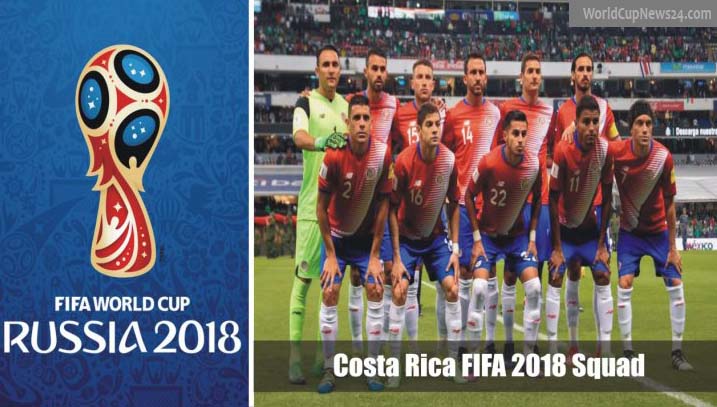 2018 World Cup Costa Rica group:
From 8 groups in this world cup 2018 Costa Rica will be playing in Group E with Brazil (World Ranking 2), Serbia(World Ranking 35) and Switzerland (World Ranking 6). Costa Rica will be played 3 football match in group round.
FIFA World cup 2018 Costa Rica football match schedule:
Fifa world cup 2018 all match schedule was published in this website. you can download world cup 2018 football match schedule pdf in your local time table.
Match 10
Date: 17-06-2018
Indian Time: 05:30 PM
Costa Rica vs Serbia
Cosmos Arena, Samara
Match 25
Date: 22-06-2018
Indian Time: 05:30 PM
Brazil vs Costa Rica
Zenit Arena, Saint Petersburg
Match 42
Date: 27-06-2018
Indian Time: 11:30 PM
Costa Rica vs Switzerland
Strelka Stadium, Nizhny Novgorod
World Cup 2018 Costa Rica full Squad & player details:
The Costa Rica Coach for world cup 2018: Óscar Ramírez (December 8, 1964 / Age 53)
SL No.
Position
Player Name
Date of birth & Age
Total Goals

Costa Rica world cup 2018 squad- 3 Goalkeepers list

01
GK
Keylor Navas
15 December 1986 (aged 31)
0
02
GK
Patrick Pemberton
24 May 1982 (aged 36)
0
03
GK
Leonel Moreira
2 April 1990 (aged 28)
0

Costa Rica world cup 2018 squad 9 Defenders list

04
DF
Giancarlo González
8 February 1988 (aged 30)
2
05
DF
Johnny Acosta
21 July 1983 (aged 34)
2
06
DF
Cristian Gamboa
24 October 1989 (aged 28)
3
07
DF
Bryan Oviedo
18 February 1990 (aged 28)
1
08
DF
Óscar Duarte
3 June 1989 (aged 29)
2
09
DF
Francisco Calvo
8 July 1992 (aged 25)
3
10
DF
Kendall Waston
1 January 1988 (aged 30)
3
11
DF
Rónald Matarrita
9 July 1994 (aged 23)
2
12
DF
Ian Smith
6 March 1998 (aged 20)
0

Costa Rica world cup 2018 squad 7 Midfielder list

13
MF
Celso Borges
27 May 1988 (aged 30)
21
14
MF
Christian Bolaños
30 May 1984 (aged 34)
6
15
MF
Randall Azofeifa
30 December 1984 (aged 33)
3
16
MF
Yeltsin Tejeda
17 March 1992 (aged 26)
0
17
MF
David Guzmán
18 February 1990 (aged 28)
0
18
MF
Rodney Wallace
17 June 1988 (aged 29)
4
19
MF
Daniel Colindres
28 May 1985 (aged 33)
0

Costa Rica world cup 2018 squad 4 Forward list

20
FW
Bryan Ruiz (captain)
18 August 1985 (aged 32)
23
21
FW
Joel Campbell
26 June 1992 (aged 25)
14
22
FW
Marco Ureña
5 March 1990 (aged 28)
15
23
FW
Johan Venegas
27 November 1988 (aged 29)
9