France coach Didier Deschamps has announced for France final 23-man squad for the 2018 FIFA World Cup on 17 May 2018. Hugo Lloris is the captain of Fifa World cup 2018 France national football teams. France football team officially published 23 player name list for Russia world cup 2018 including 3 Goalkeepers, 5 Midfielders, 8 Defenders and 7 Forwards player names. Olivier Giroud, Antoine Griezmann, Thomas Lemar, Paul Pogba are the popular player in France football team. Didier Deschamps (15 October 1968 / Age 49) is the France football team Coach for world cup 2018.
France FIFA Ranking and World cup Championship info:
France is the 7 Fifa ranking team in the world. France is the one of the World cup champion's team in FIFA World cup 1998. Also one time World cup Runners up team in 2006 World cup tournaments. This team total played 2 World cup final match. you can see all of world cup championship details in this post.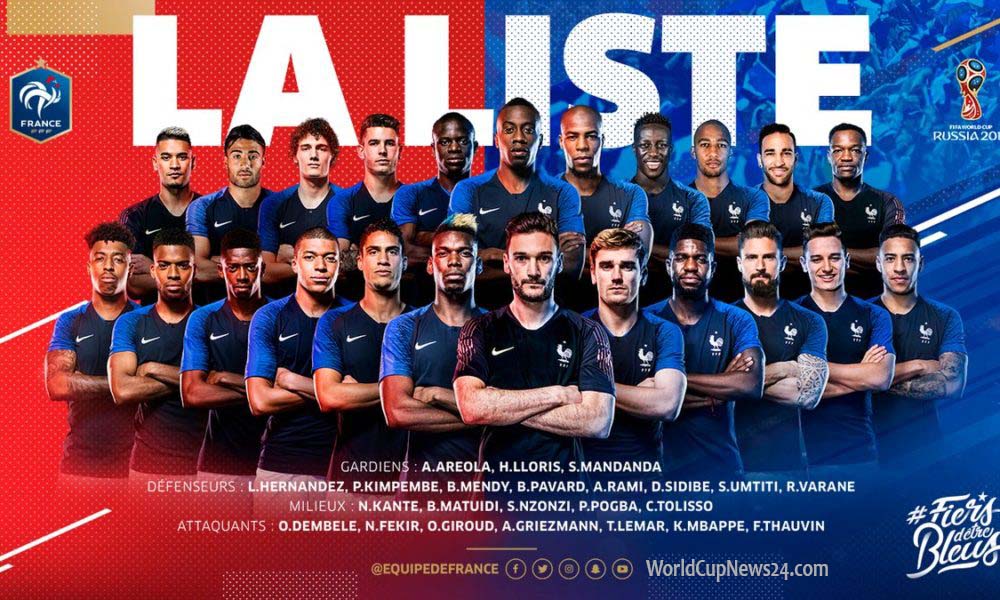 2018 World Cup France group:
From 8 groups in this world cup 2018 France will be playing in Group C with Australia (World Ranking 40), Peru (World Ranking 11) and Denmark (World Ranking 12).
FIFA World cup 2018 France football match schedule:
Fifa world cup 2018 France match schedule was published in this article. you can download world cup 2018 football match schedule pdf in your local time table. France will be played 3 football match in group round.
Match 5
Date: 16-06-2018
IST 03:30 PM (GMT+5:30)
France vs Australia
Kazan Arena, Kazan
Match 21
Date: 21-06-2018
IST 08:30 PM (GMT+5:30)
France vs Peru
Central Stadium, Yekaterinburg
Match 37
Date: 26-06-2018
IST 07:30 PM (GMT+5:30)
Denmark vs France
Luzhniki Stadium, Moscow
World Cup 2018 France full Squad & player details:
The France Coach for world cup 2018: Didier Deschamps (15 October 1968 / Age 49)
SL No.
Position
Player Name
Date of birth & Age
Total Goals

France world cup 2018 squad: 3 Goalkeepers list

01
GK
Hugo Lloris (captain)
26 December 1986 (aged 31)
0
02
GK
Steve Mandanda
28 March 1985 (aged 33)
0
03
GK
Alphonse Areola
27 February 1993 (aged 25)
0

Fifa world cup 2018 France squad: 8 Defenders list

04
DF
Adil Rami
27 December 1985 (aged 32)
1
05
DF
Presnel Kimpembe
13 August 1995 (aged 22)
0
06
DF
Raphaël Varane
25 April 1993 (aged 25)
2
07
DF
Samuel Umtiti
14 November 1993 (aged 24)
1
08
DF
Benjamin Pavard
28 March 1996 (aged 22)
0
09
DF
Djibril Sidibé
29 July 1992 (aged 25)
1
10
DF
Benjamin Mendy
17 July 1994 (aged 23)
0
11
DF
Lucas Hernández
14 February 1996 (aged 22)
0

2018 world cup France squad 5 Midfielder list

12
MF
Blaise Matuidi
9 April 1987 (aged 31)
9
13
MF
N'Golo Kanté
29 March 1991 (aged 27)
1
14
MF
Steven Nzonzi
15 December 1988 (aged 29)
0
15
MF
Paul Pogba
15 March 1993 (aged 25)
9
16
MF
Corentin Tolisso
3 August 1994 (aged 23)
0

Fifa world cup 2018 France 7 Forward players list

17
FW
Kylian Mbappé
20 December 1998 (aged 19)
3
18
FW
Antoine Griezmann
21 March 1991 (aged 27)
19
19
FW
Olivier Giroud
30 September 1986 (aged 31)
30
20
FW
Thomas Lemar
12 November 1995 (aged 22)
3
21
FW
Nabil Fekir
18 July 1993 (aged 24)
1
22
FW
Ousmane Dembélé
15 May 1997 (aged 21)
1
23
FW
Florian Thauvin
26 January 1993 (aged 25)
0