Iceland coach Heimir Hallgrímsson has announced for Iceland final 23-man squad for the 2018 FIFA World Cup on 11 May 2018. Aron Gunnarsson is the captain of Fifa World cup 2018 Iceland national football teams. Iceland football team officially published 23 player name list for Russia world cup 2018 including 3 Goalkeepers, 8 Midfielders, 8 Defenders and 4 Forwards player names. Alfreð Finnbogason, Gylfi Sigurðsson, Jóhann Berg Guðmundsson, Albert Guðmundsson are the most popular player in Iceland world cup 2018 squad. Iceland is the 22 Fifa ranking team in the world. Heimir Hallgrímsson (10 June 1967 / Age 50) is the Iceland Coach for world cup 2018.
Iceland 2018 World Cup group:
From 8 groups in this world cup 2018 Iceland will be playing in Group D with Argentina (World Ranking 5), Croatia (World Ranking 18) and Nigeria (World Ranking 47).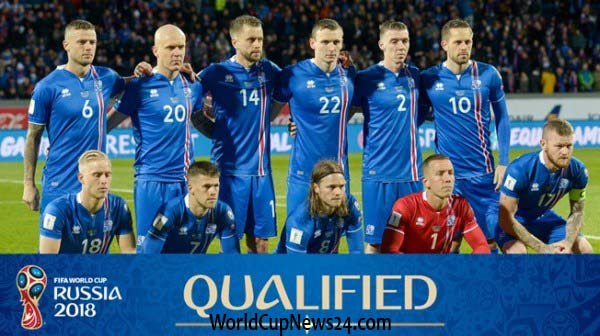 FIFA World cup 2018 Iceland football match schedule:
Fifa world cup 2018 Iceland match schedule was published in this article. you can download world cup 2018 football match schedule pdf in your local time table. Iceland will be played 3 football match in group round.
Match 7
Date: 16-06-2018
Indian Time: 06:30 PM
Argentina vs Iceland
Spartak Stadium, Moscow
Match 24
Date: 22-06-2018
Indian Time: 08:30 PM
Iceland vs Nigeria
Central Stadium, Volgograd
Match 40
Date: 26-06-2018
Indian Time: 11:30 PM
Iceland vs Croatia
Levberdon Arena, Rostov-on-Don
2018 world cup Iceland 23 Men squad with details:
The Iceland Coach for world cup 2018: Heimir Hallgrímsson (10 June 1967 / Age 50)
SL No.
Position
Player Name
Date of birth & Age
Total Goals

Iceland world cup 2018 squad: 3 Goalkeepers list

01
GK
Hannes Þór Halldórsson
27 April 1984 (aged 34)
0
02
GK
Frederik Schram
19 January 1995 (aged 23)
0
03
GK
Rúnar Alex Rúnarsson
18 February 1995 (aged 23)
0

Fifa world cup 2018 Iceland squad: 8 Defenders list

04
DF
Birkir Már Sævarsson
11 November 1984 (aged 33)
1
05
DF
Samúel Friðjónsson
22 February 1996 (aged 22)
0
06
DF
Sverrir Ingi Ingason
5 August 1993 (aged 24)
3
07
DF
Ragnar Sigurðsson
19 June 1986 (aged 31)
3
08
DF
Kári Árnason
13 October 1982 (aged 35)
4
09
DF
Hólmar Örn Eyjólfsson
6 August 1990 (aged 27)
1
10
DF
Hörður Björgvin Magnússon
11 February 1993 (aged 25)
2
11
DF
Ari Freyr Skúlason
14 May 1987 (aged 31)
0

2018 world cup Iceland squad 8 Midfielder list

12
MF
Jóhann Berg Guðmundsson
27 October 1990 (aged 27)
7
13
MF
Birkir Bjarnason
27 May 1988 (aged 30)
9
14
MF
Gylfi Sigurðsson
8 September 1989 (aged 28)
18
15
MF
Ólafur Ingi Skúlason
1 April 1983 (aged 35)
1
16
MF
Aron Gunnarsson (captain)
22 April 1989 (aged 29)
2
17
MF
Rúrik Gíslason
25 February 1988 (aged 30)
3
18
MF
Emil Hallfreðsson
29 June 1984 (aged 33)
1
19
MF
Arnór Ingvi Traustason
30 April 1993 (aged 25)
5

Fifa world cup 2018 Iceland 4 Forward players list

20
FW
Albert Guðmundsson
15 June 1997 (aged 20)
3
21
FW
Björn Bergmann Sigurðarson
26 February 1991 (aged 27)
1
22
FW
Alfreð Finnbogason
1 February 1989 (aged 29)
11
23
FW
Jón Daði Böðvarsson
25 May 1992 (aged 26)
2